Creamy Mushroom Stroganoff
This creamy mushroom stroganoff recipe is so good. Combining mushrooms with onion and celery, this nutrient-rich dish is flavored with mixed herbs, basil and stock. You can use chicken or vegetable stock, as you wish. A little parsley and some sour cream is all you need to add to this mixture to finish it off well, perfecting both the flavor and texture of the dish.
You might be more familiar with beef stroganoff but this exciting creamy mushroom stroganoff dish is also nice when you use an earthy vegetable to make it and mushrooms are idea. Celery also goes well in this. You can use full-fat or reduced-fat sour cream or crème fraîche to make this, as you prefer.
Serve this creamy mushroom stroganoff with rice or with mashed potatoes. You will love the creamy flavor of the sauce as well as the delicate aromatic taste of the herbs used. The mushrooms offer a nice texture and you honestly won't miss the beef, even if you serve this to a confirmed carnivore. It is just so well-balanced and delicious, offering a wealth of flavor in every single bite.
The Best Vegetarian Recipes
Mushrooms are often used in vegetarian recipes because of their earthy, 'meaty' flavor and texture and they really do contribute a lot to this dish, and a lot of other ones besides. If you are wondering about this creamy mushroom stroganoff, stop wondering and start cooking because this is a fabulous dish.

Creamy Mushroom Stroganoff
Featuring the earthy flavor of mushrooms as well as cream, herbs and more, this is a delightful dish. Stroganoff usually features beef or another meat, but this is a vegetarian alternative.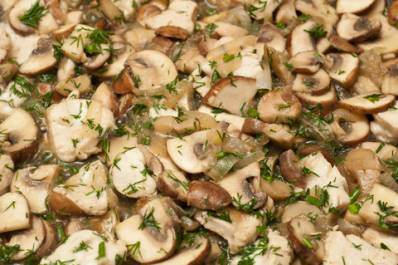 Author:
Victoria Haneveer
Prep time:
Cook time:
Total time:
Ingredients
1 sliced onion
2 chopped celery ribs
Spray oil
7 oz (200g) sliced mushrooms
½ teaspoon mixed herbs
½ teaspoon basil
½ tablespoon all-purpose flour
3 tablespoons (75ml) stock
Salt and black pepper
Parsley
3 tablespoons sour cream or crème fraiche
Instructions
Sauté the onion and celery in spray oil over a low heat for 5 minutes.
Add the mushrooms and cook 2 or 3 minutes.
Add the herbs and flour and mix well.
Cook 1 minute then stir in the stock.
Cook 8 to 10 minutes.
Stir in the sour cream or crème fraiche.
Adjust the seasoning.
Heat gently without boiling.
Serve over rice or a baked potato.
Notes
Stroganoff does not have to contain meat, and if you make this recipe you won't miss the meat at all.
Some More Hot Content For You
Other Posts You Might Like