Curried Beef Stuffed Peppers
I've always been a fan of stuffed peppers, especially when beef, rice and cheese come together with seasonings to offer a rich and satisfying filling. But this time I wanted to make something without the rice and cheese, and I was curious how to flavor the beef sufficiently so that could be the main ingredient. That is how the idea for these curried beef stuffed peppers was born.
The following curried beef stuffed peppers recipe is made with spices and seasonings to add a light curry flavor to the beef filling, along with walnuts, raisins and other ingredients to add flavor accents. The overall effect is amazing and I am keen to make these curried beef stuffed peppers again soon.
I served the curried beef stuffed peppers with green beans on the side and actually they didn't look much on the plate but, trust me, they are filling! The following recipe makes 2 servings and the amount of filling should be just enough to fill the peppers. Mine was perfect – neither too much nor too little, but of course it depends on the size of your peppers.
How to Serve Curried Beef Stuffed Peppers
You can serve these curried beef stuffed peppers with homemade raita (combine a cup of plain Greek yogurt in the blender with some cucumber and fresh mint, plus a pinch each of garlic powder, salt and cumin) or maybe sprinkle some chopped or minced green onions on the peppers. Follow up with a fresh fruit dessert or perhaps some mousse or ice cream, and I guarantee everyone will leave the dinner table happy.

Curried Beef Stuffed Peppers
An aromatic curried beef filling is used to stuff these bell peppers. Add fragrant spices, walnuts, raisins and more, and you will find this makes a delicious change from your usual stuffed pepper recipes.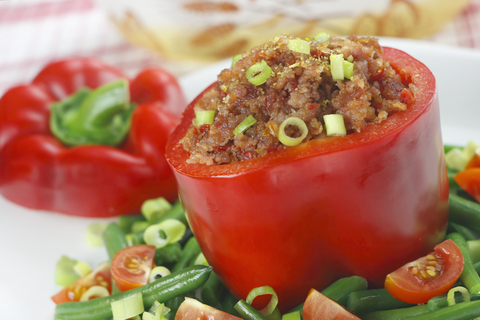 Author:
Victoria Haneveer
Prep time:
Cook time:
Total time:
Ingredients
1 tablespoon olive oil
1 finely chopped small yellow onion
2 minced garlic cloves
12 oz (340g) ground beef
⅓ teaspoon cumin
⅔ tablespoon minced fresh ginger
⅔ teaspoon ground coriander
⅔ tablespoon curry powder
⅓ teaspoon turmeric
½ teaspoon salt
Chili powder or hot sauce (optional)
Sugar or artificial sweetener (optional)
1 lightly beaten egg
¼ cup (25g) chopped raisins
¼ cup (25g) chopped walnuts
2 red bell peppers
Instructions
Preheat oven to 375 degrees F (190 degrees C).
Heat the oil in a skillet and add the onion.
Cook until soft then add the garlic and cook for 30 seconds.
Add the beef and cook until browned.
You can break it up using a wooden spoon as it cooks.
Drain the meat if there is a LOT of fat in there (else leave it in because it helps keep the filling moist).
Stir in the cumin, ginger, coriander, curry powder, turmeric and salt.
Stir in the walnuts and raisins.
Taste the mixture and add chili powder or hot sauce if you want to spice it up.
You might also want to add a bit of sugar or sweetener, or maybe you prefer not.
Turn off the heat then stir in the egg and ensure everything is well mixed.
Remove the tops from the peppers.
Scoop out and discard the seeds and white membrane.
Lightly grease the bottom of a small baking dish.
Divide the meat mixture between the peppers.
Put them in the prepared dish.
Cover with aluminum foil and bake for 35 minutes or until the peppers are tender.
Notes
You can shape the peppers into boats (by cutting lengthwise) instead of taking the tops off if you want.
If your peppers don't stand upright in the pan, shave a little off the base so they do.
If you have some of the filling mixture left over, keep it for another use (such as tossing it into cooked rice or pasta).
I usually make this with red peppers but you can use yellow (sweeter) or green (less sweet).
Some More Hot Content For You
Other Posts You Might Like