How to Make Vegetable Quiche
Few things are as delicious as a good vegetarian quiche, and learning how to make vegetable quiche is something that any home cook can do with ease.
You can include as few or as many veggies as you like, and choose from various types of crusts and fillings, to make your vegetarian quiche recipe perfect for your palate.
Once you discover how to make quiche you will want to experiment with diverse crusts and fillings. Not only will you love the resulting quiche but your family are sure to love it too.

Quiche is a healthy option, boasting the protein from eggs, the nutrients in the veggies, and it is also really filling and will keep you satisfied until your next meal so discovering how to make vegetable quiche is very worthwhile.
Quiche can be served hot, chilled or at room temperature, alone or with one of many possible side dishes such as a simple tossed green salad, some steamed vegetables or even homemade fries.
Types of Vegetarian Quiche
There are lots of types of quiche, including vegetarian quiche recipes and even vegan quiche recipes. Have you tried mushroom quiche or spinach quiche? How about tomato and cheese quiche or even a delicious broccoli quiche?
The sky is the limit and the great thing about making your own easy vegetarian quiche recipes is you can add any veggies you like!
How to Make Vegetable Quiche Like a Pro
This delicious quiche is really easy to make. If you prefer to use a ready-made pastry crust you can. Just miss out the first few steps. If you are making your own, then choose any pastry recipe.
Feel free to mix and match the veggies. Perhaps you have some leftover vegetables to use up. Swap the red bell pepper for green or yellow bell pepper or try adding some asparagus or beets if you fancy. Make this quiche your own.
Vegetable Quiche Recipe
Enjoy the flavors in this fantastic vegetarian quiche recipe. Homemade quiche can be served chilled or warmed, with fries or garlic bread perhaps. This is a real treat!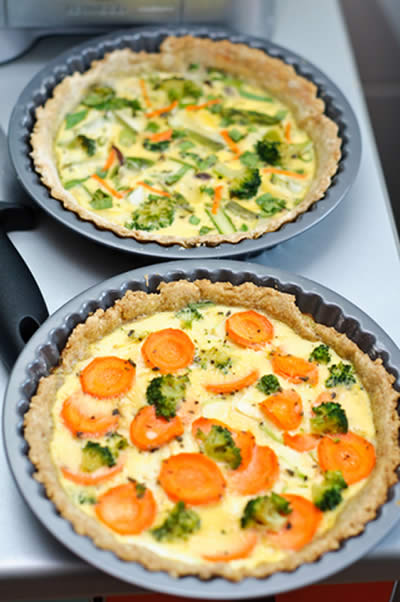 Author:
Victoria Haneveer
Prep time:
Cook time:
Total time:
Ingredients
1 unbaked pastry shell (9 inches or 23cm)
5 eggs
¼ cup (60ml) milk
2 chopped medium tomatoes
2 tablespoons butter
4 sliced button mushrooms
1 chopped red bell pepper
½ cup (90g) chopped zucchini (courgette)
1½ chopped yellow onions
¼ cup (50g) grated Parmesan cheese
⅛ teaspoon ground cinnamon
½ teaspoon curry powder
½ teaspoon salt
¼ teaspoon black pepper
Instructions
Preheat the oven to 450°F (230°C).
Line the pastry shell with a double thickness of heavy-duty foil (do not prick the pastry first).
Bake it for 5 minutes.
Remove the foil and bake for another 5 minutes.
Reduce the oven heat to 350°F (180°C).
Saute the onion, red bell pepper, mushrooms, tomatoes and zucchini in the butter in a big skillet.
Add the cinnamon, curry powder, salt and black pepper, and mix well.
Spoon this mixture into baked crust.
Beat the eggs then stir in the milk and cheese.
Carefully pour this over the vegetables.
Bake for about 40 minutes or until a knife inserted near the center comes out clean.
Let the quiche stand for 5 minutes before serving.
Nutrition Information
Serving size:
1 serving (1/6 of the quiche)
Calories:
220
Fat:
14
Saturated fat:
6
Carbohydrates:
19
Sodium:
370
Fiber:
1
Protein:
7
Cholesterol:
148
 Photo by: Dreamstime
Wilton Nonstick Round Tart Quiche Pan, 9 by 1 1/8 Inch
This nonstick quiche dish makes it easy to cook your favorite vegetarian quiche recipe. Once you know how to make vegetable quiche you can go ahead and use this awesome quiche pan for it. Simply add your pastry crust, add the filling mixture and bake to perfection. This is a nonstick quiche pan so your finished quiche will come out easily and in one piece. Your crust will be fluted attractively and this pan encourages even baking. This is a high-rated quiche pan which every home kitchen can make use of.
Wilton Nonstick Round Tart Quiche Pan, 9 by 1 1/8 Inch
Vegetarian Mini Crustless Quiche Recipe
Party-Perfect Mini Quiche Appetizers
Mini quiches are fantastic finger food, and these mini quiche appetizers are cute and totally delicious. They are individually sized for portion control and they are crustless too.
The combination of 1/2 whole egg and 1/2 egg whites along with skim milk means that are a fantastic low-calorie breakfast option. Swap the skim milk for a mixture of heavy cream and water and you have low carb mini quiches.
Breakfast quiche anyone? These are also wonderful for appetizers, lunches, snacks, or anytime you fancy something tasty.
If you are following a low carb diet you might be interested in learning how to make crackslaw. This spicy, meaty feast is low carb so perfect for any stage of the Atkins diet.
A Brief History of Quiche
So how did this famous dish come about? Quiche is a French word and it is believed to be a French recipe. However, pastry cases filled with savory cases were actually known in England first, as early as in the 1300s.
A quiche has an egg and milk (or cream) filling and a pastry crust. One of the most famous quiches has to be quiche lorraine, an open pie containing not only the egg-based filling but also smoked bacon.
The bottom crust used to be made from bread dough, although modern quiche recipes use pastry instead. Pleased you now know how to make vegetable quiche? Great, time to try our recipe!
Vegetarian Mini Crustless Quiche Recipe
Mini quiches are wonderful served as party food or any occasion finger food, and these mini quiche appetizers are cute and really delicious. You won't miss the crust.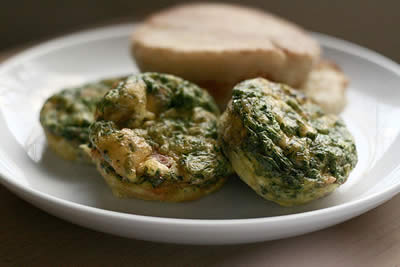 Author:
Victoria Haneveer
Prep time:
Cook time:
Total time:
Ingredients
4 large eggs
⅓ cup (45g) grated Fontina cheese
10 oz (285g) chopped white mushrooms
¼ cup (65ml) skim milk
2 handfuls baby spinach
1 thinly sliced small shallot
4 large egg whites
Cooking spray as needed
1 tablespoon olive oil
Pinch freshly grated nutmeg
Salt and black pepper
Instructions
Preheat the oven to 375 degrees F (190 degrees C) and lightly coat a 12-cup nonstick muffin pan using cooking spray.
Add the oil to a large nonstick skillet and saute the shallot, mushrooms and a little salt and black pepper until the mushrooms are lightly browned and the shallots are soft.
This will take about 10 minutes.
Remove from the heat and add the nutmeg and spinach. Stir for a couple of minutes, then let the mixture cool for 5 minutes.
Whisk the eggs with the egg whites and milk, adding a pinch each of salt and pepper.
Stir in the cheese, then divide the mixture between the muffin cups.
Don't fill them more than halfway.
Top with the spinach mixture.
Bake for 20 minutes or until the quiches are golden brown and set, and have risen.
Allow them to cool in the pan for 5 minutes then transfer them to a wire rack and delight in the fact you now know exactly how to make vegetable quiche.
You can serve them warm or at room temperature.
Nutrition Information
Serving size:
Per serving (2 mini quiches)
Calories:
180
Fat:
11.5
Saturated fat:
4
Carbohydrates:
6
Sodium:
538
Fiber:
1
Protein:
14
Cholesterol:
162
Photo courtesy of:
Alice Carrier, on Flickr
Some More Hot Content For You
Other Posts You Might Like