Sparkly Swarovski Cat Collars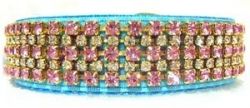 Swarovski crystals are beautiful and if you are looking for an extra special collar for your feline friend then why not buy Swarovski cat collars? Costing less than you might imagine, these lovely collars will look gorgeous on your cat.
I have tried a few different ones, although my favorite is the simple 10-diamonds on velvet style. My cat Cleo is black with flashes of gray in her fur, so I usually go with a bright color like pink or red. She's 9 so she has had a few collars and she had her current one for a couple of years so far.
Choosing Swarovski cat collars is not difficult. Just pick out something which you like and make sure you get the correct size.
To measure your cat's collar size, simply put a measuring tape around her neck and insert a couple of fingers between the tape and her neck. The resulting size is her collar size. 9 or 10 inches is an average size but some cats have smaller necks and some have larger ones.
Make Swarovski Cat Collars Smaller
If you get a collar which is a little too large you can very easily make a new hole in it using the tip of a sharp pair of scissors. Simply poke it through and twist it around a little. I had to do this when Cleo was a kitten. I got her at 2.5 weeks old (she was a rescue cat) and her neck was teeny-tiny then!
Swarovski Cat Collars Personalization
You get lots of choices when shopping for a Swarovski cat collar. First you get to choose the color and style you like.
Pick ultrasuede, velvet, leather or silicon and one with pretty crystals on. If your collar is plain with a Swarovski buckle, then you can also pick out some Swarovski charms or letters (or both!) to make it totally unique. Have fun!
Personalized Swarovski Cat Collars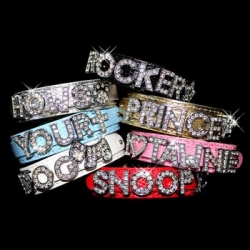 This beautiful collar comes in 7 different colors and 3 sizes, so you can find the perfect fit for Puss.
Personalize it with your cat's name or with some fun shapes or other Swarovski crystals and you will have a special, unique collar for your little FurBaby which she will be delighted to prowl around in!
The fact that you can personalize this makes it extra-desirable. The collar has a delicate snakeskin type pattern and the crystals you want on there are threaded on a separate part for your cat's comfort.
This would make a great gift for a friend who has a cat, or you could treat your own cat to it.
Personalized Cat Collar, on Amazon
10-Inch Breakaway Velvet Collar with 10 Diamante Studs
This collar always gets great reviews and it is certainly very pretty. If you want your cat to look great in velvet and diamonds, choose this collar and watch her proudly strut around in it. You can't beat the price either!
This beautiful Swarovski cat collar comes in various colors and the breakaway clip means if your cat gets caught on a branch or something she can pull away and the collar will release. This safety feature is always handy. Choose from 10, 12 or 14 inches.
When measuring your cat for a collar, you should be able to get a couple of fingers between her neck and the collar to ensure a comfy fit. I bought one of these for my cat Cleo and I had to make an extra hole (very, very easy to do) because she was a kitten but she soon grew into the 10 inch one and she loves it!
Breakaway Velvet Collar with Diamante, on Amazon
Designer Swarovski Cat Collar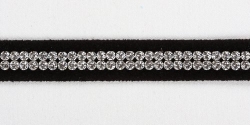 When you want the best of the best for your cat, this is the collar to choose.
Featuring real ultrasuede as well as real Swarovski crystals, there is nothing not to like about this collar. It looks expensive and your cat will love to strut around in it.
A good buy for your pampered indoor Puss, this Swarovski cat collar is made of the finest materials. It has a safety stretch feature and fits any cat with a neck from 9 to 10.5 inches. Bring some bling to your beloved FurBaby by getting this designer cat collar.
The Swarovski diamonds flash and look stunning and the ultrasuede is soft and durable. If your cat deserves nothing but the very best, this collar will suit her down to the ground.
Designer Cat Collar, on Amazon
Oval Swarovski Buckle Collar in Leather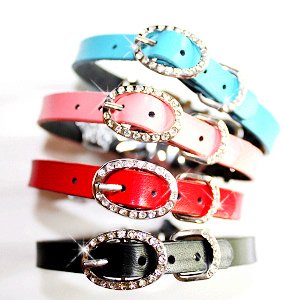 Choose from blue, red or black. This beautiful cat collar features a Swarovski diamond buckle which will look fantastic on any type of cat.
Your cat cat wear it alone or you can buy some Swarovski letters to spell out her name. How cute would that be?
Take your pick – this is available in any size from extra small to medium, and give your cat a dazzling look.
The oval buckle on this Swarovski cat collar is hand-crafted and fitted with Swarovski diamonds.
You can also add fun Swarovski charms or letters to complete the look. This decorative collar is not suitable as a walking/restraining collar, but it is perfect for your cat to strut her stuff, and it looks beautiful.
Oval Crystal Bling Cat Collar, on Amazon
Swarovski Crystal Letters for Cat Collars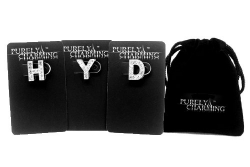 These beautiful Swarovski letters will finish off your cat's collar in style, and they can be slid over any collar whether it is leather, ultrasuede, plastic or velvet.
Choose a cat collar with a diamante buckle and spell out her name (or just use the initial) with these Swarovski letters.
These letters will allow you to personalize your cat's collar like nothing else can. Add a fun charm too, or simply the letters of her name or her initial. Swarovski crystals dazzle and shine, and the finished collar will be so beautiful.
Swarovski Crystal Letters for Cat Collar, on Amazon
Swarovski Cat Collars Slide-On Charms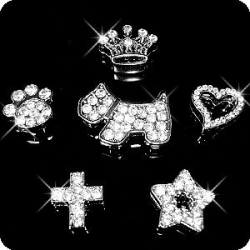 How do you finish off your cat's collar in style? Easy, get Swarovski charms to slide over the collar and personalize it in the most fun way possible.
These beautiful Swarovski collar charms are rhodium-plated so they will not tarnish, and they feature exquisite Swarovski crystals.
Although you might want to give the puppy charm a miss, the heart, crown, star, cross and paw charms are lovely. You could combine one of these with Swarovski letters to spell out your cat's name, or simply add a couple of charms to any cat collar.
After reading through all the reviews, I gather that every single seller is delighted with these and everyone gives high ratings.
These charms are comparable to Swarovski jewelry like earrings or pendants and they are much higher quality than the rhinestone charms you might have seen in pet stores. The metal part is thicker and the crystals are much more dazzling. They slide on very easily. These are for 10mm collars so make sure you have a 10mm (0.4 inch) thick collar and not a wider one.
Slide-On Charms for a Cat Collar, on Amazon
Safety and Style
Cat collars are for safety as well as style. If your cat should wander away, having a name barrel or identification on the collar can ensure her speedy return. A beautiful Swarovski collar will also give your cat style and panache of course!
Advice and Tips About Swarovski Cat Collars
It can be hard to put the 1st collar on some cats, especially kittens or adults which have never worn one before. Even though the process takes patience, don't let the challenge stop you from giving your cat a collar and ID tag. These might be your cat's ticket home if she accidentally escapes.
It is a good idea to put a collar on an indoor-only cat too because if she does get out, a well-meaning person might assume your cat is a stray and take her in or take her to an animal shelter. With an ID collar, your cat is going to stand a better chance of getting home safely and speedily, and as a responsible pet owner that is of course what you want.
Getting a Cat Used to a Collar
She might scratch at the collar at first, since it is a new feeling, but she will adjust to it after a while. Give her a cat treat, some catnip or a climbing post to distract her from the new collar. You might need to repeat this a few times but she will get used to the collar, believe me!
Collars will not expand as your cat does, so check it often and make it looser if necessary. A collar which fits your kitten is not going to fit her as an adult cat so adjust it as she grows or buy a larger size. Cat-safe collars might lose their stretch over time and elderly cats can lose weight as they age, so keep an eye on your cat's collar and make sure it is not loose enough to slip off her head, nor so tight you cannot slide 2 fingers in between her neck and the collar.
Consider a breakaway Swarovski cat collar which will come apart if it catches on something. This will stop it from strangling your pet if she does get caught on something.
Microchipping is Sensible Too
Something else you might wish to consider is a microchip. A collar can be removed but a microchip is internal identification. This tiny capsule is injected between your cat's shoulder blades. It's about the size of a grain of rice.
The microchip has a unique ID number which is read by a scanner. Update your information in the database if you move house or change telephone numbers. A microchip doesn't contain a GPS so you will not be able to track your pet, but a chip is legal proof of ownership if your cat is stolen.
Designer Cat Collars – Your Options
Designer cat collars have become the ultimate accessory for cat owners searching for a unique gift for their cat. Alongside the safety issues for having a collar, there are several other reasons why you may want to purchase a collar. Cat owners love their feline friends; therefore, purchasing the best collar is the best way to show that you care.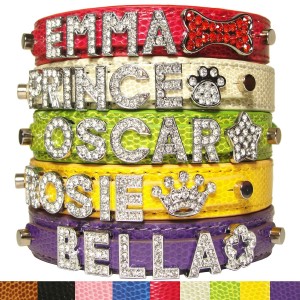 There are many different cat collars available; however, if you want a designer collar, you will need to search in the correct location. You will need to decide your budget, and what style of collar your cat would prefer. The distinctive collars are available for both male and female cats, guaranteeing that your cat will look their best.
Purchasing the perfect designer cat collar will help you to compliment the cat's natural beauty, and ensure that there is no mistaking who they are in the feline world.
Paying more for the collar will guarantee that you receive the best quality, top fabrics for the collar. Designer collars will be comfortable for your cat, and ensure that they never break the hair shaft on the fur.
Personalized Snakeskin Cat Collar, in Any Color, on Amazon
Every element of the designer cat collars should be functional, and of a high standard to ensure that your cat remains safe as well as attractive. The safety features need to be considered, and quick release collars remain a firm favorite for your active animal. Once the safety element is included, you can begin to search for the ultimate designer collar.
Leather is often considered to be the best quality material for the cat collar; however, more people are choosing a reflective nylon to promote safety. Both materials can have added accessories, to make the collar unique. Swarovski crystals remain a favorite and can look incredible placed on leather, with attractive metal adornments.
Leopard print cat collar are tasteful, and perfect for either your prince or princess, the imitation fur is comfortable, stylish and ideal for every pampered feline. Contemporary cat collars are becoming popular, and you can choose a vast array of different colors, and styles to ensure that your cat loves their collar.
Something for Every Puss
Urban cats may prefer army camo collars or metallic choices to create the ultimate in style. Whether your cat is cute and cuddly, or more of a rugged tom, there is a collar to suit every taste. You will soon discover that purchasing the cat collars can be a huge amount of fun and that you will end up with one for every day of the week. And your cat will love their Swarovski cat collars too!
Some More Hot Content For You
Other Posts You Might Like