american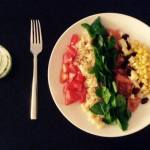 This is my favorite salad right now. The flavors are simply amazing and I adore this stetson salad recipe. I am a fan of chopped salad anyway and often make cobb salad for dinner, but once I heard about this one I just had to find out more about it, and it's definitely my number one favorite now!
The ingredients in a stetson salad recipe are colorful and tasty, and the dressing goes beautifully with the flavors in this Stetson salad. This salad is one of the most popular items on the menu at Cowboy Ciao, a restaurant in Scottsdale, Arizona. Depending where you live you might not be able to get all the ingredients for Stetson salad but that's OK because they're quite easy to tweak.
If you don't like smoked salmon, for example, you can use chopped chicken breast in the stetson salad recipe instead. If you can't get Asiago cheese then fresh parmesan makes a good substitute. Likewise, you can swap the dried berries for currants or raisins.
Some people swap the pearl couscous (Israeli couscous) for regular couscous or even quinoa, but I love pearl couscous. Cook it for 11 minutes though, not 12 (on the package it will probably say 11 or 12) else it gets too sticky and will stick to your hands and the plate when you're trying to make the rows.
Continue reading →
Other Posts You Might Like