amethyst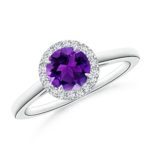 Amethyst is a beautiful stone and a great choice for an engagement ring. I've found 10 stunning amethyst engagement rings which you are free to drool over! Not everyone wants a classic diamond solitaire. Some women prefer something more unique, which resonates with their personality more than a classic diamond.
If you find amethyst magical, mystical or just beautiful consider amethyst engagement ring ideas and see which style resonates with what you personally love. Amethyst is usually a purple color but you can also get a green variety which is even more unusual.
You can pair amethyst with white, yellow or rose gold, or even silver or another metal if you prefer that, choose from an amethyst solitaire or something else. Many other semi-precious and precious gems pair nicely with amethyst and you can find all kinds of settings. There is literally something for everybody when it comes to amethyst engagement rings.
Being drawn to amethyst is something a lot of us can appreciate, because this gorgeous purple stone is so beautiful. Choose an amethyst engagement ring and let this wonderful piece take pride of place on your finger. Are you shopping for your potential fiancee? She can't fail to be flattered and pleased with this exquisite choice. Continue reading →
Other Posts You Might Like