appetizer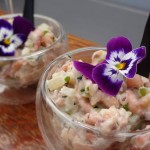 This Old Bay shrimp and apple salad is a gorgeous recipe. It looks really nice served in little glasses with edible flowers as a garnish, but it can also be served over lettuce or baby salad leaves if you prefer. This Old Bay shrimp and apple salad is a nice way to begin any kind of meal, and it is especially good during the summer when you don't want to cook.
We are using shrimp, and you can use little ones or chop larger ones. Make sure they are peeled and deveined first. Canned or thawed shrimp are fine here. You will also need some red apple and onion for crunch. The dressing for our Old Bay shrimp and apple salad is made with mayonnaise, Worcestershire sauce, Old Bay seasoning and lemon juice.
Old Bay Shrimp and Apple Salad Tweaks
If you want, you can add other ingredients to the Old Bay shrimp and apple salad mix. We suggest diced celery, chopped walnuts or diced cheddar cheese. You might even want to add a little fresh dill weed or chopped chives. The recipe is nice as it is, so you might not want to add anything else to it. Also take care not to overwhelm the delicate flavors by adding too many other flavors to the mix.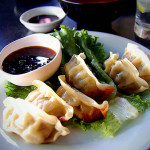 It is fair to say that potstickers are well-loved, and no wonder, when they boast such an incredible flavor in every bite. One is never enough. If you know something about potstickers history or you just like to eat them, you might already know through history potstickers have gone by a variety of names, including guotie, Peking Ravioli, pork dumplings, and wortip. Potstickers are both pan-fried and steamed.
Once the little dumplings are filled they are pan-fried on one side and then steamed in water or broth, so they end up crisp and browned on one side but easy to remove from the pan with a spatula. Try not to overcook them though, because then they will stick!
Curious Potstickers History
These little treats have been around since the Chinese Song dynasty, which dates back to 1280AD) although the exact origins are not known. According to legend however, they were invented when a chef in China's Imperial Court accidentally burnt some dumplings. Oops! Continue reading →
Some More Hot Content For You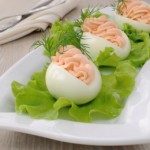 How pretty do these salmon pate stuffed eggs look? This recipe takes deviled eggs to the next level, by combining the egg yolk with salmon, lemon and creamy ingredients to make a pale pink, delicious-tasting appetizer. One or two egg halves per person is a good estimate although some people won't be able to stop munching on these lovely little snacks.
There are different ways to prepare these salmon pate stuffed eggs. You can make them the traditional way by slicing the eggs in half lengthwise or you could remove a wedge from the top (like in the picture) for a different look.
How to Add the Salmon Pate Stuffed Eggs Filling
The salmon pate stuffed eggs filling is better piped in with a piping bag (or a plastic bag with the corner cut off) but if you don't have one or you don't want to pipe, you can simply spoon the filling in. Chill the salmon deviled eggs for half an hour then serve them perhaps with some snipped chives on top or with some fresh herb sprigs. Maybe add some lemon wedges to the platter too.
This tasty snack is easy to prepare and you can make them ahead, making them ideal buffet food or party snacks. If you're making them any more than half an hour ahead though, cover them with plastic wrap before popping them in the refrigerator. Be careful not to wrap them too tight – you won't want to ruin your carefully piped filling.
Continue reading →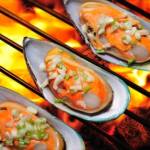 When the weather is cold, mussels steamed in the pan with white wine and parsley makes a wonderful meal, served with warm garlic bread. Then maybe follow them up with some mulled wine or hot apple cider. This is why everyone should know how to cook mussels. When the weather turns warm, such a dish might not offer the same appeal but that's when the barbecue comes into play and grilling season is in full swing.
In the following recipe we are taking live mussels and cooking them in foil packets. They are served with a butter, parsley and white wine sauce, along with some bread. This makes a lovely appetizer for 4 or an entrée for 2. If you're serving it as an entrée then consider fries on the side or baked potatoes.
How to Store Mussels Safely
When learning how to cook mussels, you should know that live mussels may be stored in the refrigerator for a couple of days. Before you cook them, tap any shells which are open. Alive ones will close their shells right away. Dead ones won't so discard any that don't close when you give them a sharp tap. Soak them in salted water for a few minutes too. This encourages them to spit out any grit.
This potato pierogi recipe is one of my favorites, but what are pierogi exactly? Well, pierogi are unleavened dough dumplings which are boiled and then fried or baked in butter. They can be stuffed with potatoes, ground meat, fruit, cheese, sauerkraut, or something else. Pierogi are normally half moon shape but they can also be triangular or rectangular.
Not to be confused with pirog (Russian pies) or pirozhki (Russian stuffed fried buns), pierogi are small enough to be served several at a time, which is why the plural of the word is used when talking about them. These little snacks are popular in Russia, Ukraine, the Czech Republic, Lithuania, and some parts of Poland. A potato pierogi recipe is simple to make and they taste fresh and satisfying.
They can be compared to tortellini, wontons, Chinese dumplings, or anything made by stuffing a skin or wrapper made of dough then cooking it with the filling inside. There is something magical about these and many kids fondly remember Grandma making a huge batch of them and maybe being allowed to help. Like other dumpling type recipes the more you make this potato pierogi recipe the easier and quicker you will be able to get them done.
What Do You Need to Make a Potato Pierogi Recipe?
In our potato pierogi recipe the pierogi are filled with a cheesy potato mixture which is really delicious. The dough is simple to make. For that we use egg yolks, potatoes, flour, shortening and cream of tartar. Once the dough is rolled out and cut into circles, you can add the filling, seal them and boil them in water.
Continue reading →
A bruschetta recipe is one of the best Italian appetizers. It is made by rubbing garlic over grilled bread, then adding olive oil, tomatoes, salt and pepper.
Some types of bruschetta recipe might also include cured meat, cheese, tomatoes, beans, or vegetables. The best-known bruschetta recipe outside Italy features fresh tomato, garlic and onion, fresh basil, and mozzarella.
So Many Bruschetta Recipe Options
A great bruschetta recipe is found on Italian restaurant menus all over the world, and there are hundreds of different ways to make it, which is why restaurant bruschetta ranges from bland to wonderful, depending who is making it. Make your own, following our recipe, and you can be guaranteed of an amazing result.
Continue reading →
Other Posts You Might Like