atkins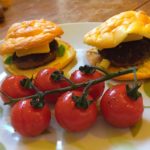 There is low carb bread and there is this very low carb bread recipe. If you've been doing Atkins or low carbing for a while, you will have tried some of the more 'eggy' or 'dense' breads and while they are passable (just!) they aren't exactly a good bread substitute.
Some low carbers will forgo the bread entirely, choosing to wrap their burger or sandwich in a large lettuce leaf instead and while there is nothing wrong with that, sometimes it's nice to have something a bit chewier and more bready, even if it isn't going to be that high-carb processed stuff you used to eat before.
There are various names for the very low carb bread recipe I am talking about – revolution rolls, cloud bread, oopsie bread, each having a slightly different recipe and preparation technique.
Here I am sharing what I found works best of all, and that's a bread which is easy to make, uses clean ingredients (ie, not processed) and is low in carbs but offers a nice taste and chewy bread-ish texture. Continue reading →
Other Posts You Might Like