avocado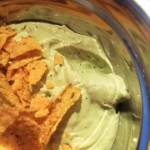 Dips are always fun to make, especially if you have a food processor and can whip them up in seconds! Although sometimes a hot dip is good, such as this hot and creamy crab dip or even our tasty artichoke dip, cool and creamy dips are also good. Try our Greek yogurt avocado dip if you like cool, creamy dips for your chips or crudites.
When I made this particular recipe I enjoyed it with Doritos, but you could serve this with crackers, vegetable crudites, melba toast, baguette bread slices, corn chips, potato chips, or anything else you want to dip in there. I made this in literally 3 minutes and the flavor was amazing. I wasn't planning to eat all of this Greek yogurt avocado dip but, uh, well you know how it is!
What You Need to Make Greek YogurtAavocado Dip
You will need some Greek yogurt, an avocado, some lime juice, and salt and black pepper to taste. If you want, you can swap the Greek yogurt for sour cream or use half and half. I've made it both ways, and both are good. Serve this as a Greek yogurt avocado dressing over salad if you want. If you prefer a thinner consistency, add a splash of milk (only a little bit because you don't want it too thin). Some cilantro in the Greek yogurt avocado dip is also nice, or you could put a small pinch of garlic powder in there. Even some hot sauce for a special zing! Continue reading →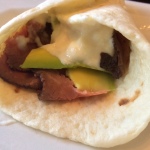 If you are looking for brand new lunch ideas, this beef and avocado wrap is certainly deserving of your consideration. Teaming juicy roast beef with fresh avocado and a homemade horseradish dressing, this is just so good.
I had some deli beef and a tortilla in the refrigerator and decided to make a horseradish dressing rather than just spooning in some of the horseradish sauce. I also had half an avocado left over from some tortilla pizzas I made last night, so threw that in there too. The resulting beef and avocado wrap sandwich was amazing and I immediately went out and made another!
Variations and Tweaks for a Beef and Avocado Wrap
You can tweak this beef and avocado wrap recipe as much as you wish. Your basic ingredients are the tortilla and the beef. You can then figure out what ingredients you have to use and really make this beef wrap your own.
Continue reading →
Some More Hot Content For You
Other Posts You Might Like