bacon in potato salad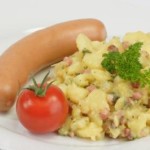 Potato salad is always good but add bacon and you have a really mouthwatering side dish. The following creamy potato salad with bacon is a recipe which is very simple to make; the potato salad will keep for a few days once prepared. Serve it chilled or room temperature. Some people even like it served warm, as soon as it is made.
Use boiling potatoes to make potato salad, not mashing potatoes which tend to disintegrate too easily. The choice of dressing is up to you.
While a lot of people just use their favorite mayonnaise, you might prefer another kind of creamy dressing for this creamy potato salad with bacon, else you can use half mayo half sour cream, half yogurt half ranch dressing, or anything else you fancy. A bit of Dijon mustard in the dressing really brings out the flavor of the potatoes and complements the dish.
Perfect Crunch and Flavor Balance
Finely diced celery or green onion is great for adding crunch to our creamy potato salad with bacon, while you can add flavor with herbs, spices or other ingredients. The bacon adds plenty of flavor. Remember it also adds saltiness so limit the amount of salad used in the recipe, and then you can always add it later if necessary. Continue reading →
Other Posts You Might Like