baked camembert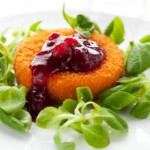 Camembert cheese is often featured as one of the cheeses on a cheeseboard, but there is more you can do with it. Similar to brie, this French cheese offers a ripe, creamy flavor, and it is also delicious served hot. Some people choose to fry the breaded Camembert in oil but you can also oven bake it if you want to cut the calories and fat content. Try this baked Camembert recipe for yourself to experience an amazing taste and texture.
How Many Will This Crispy Baked Camembert Recipe Serve?
This baked Camembert recipe will serve 2 if you want a filling starter or light main dish, or you can cut each cheese in half before you dip in the egg and breadcrumbs and serve each of 4 people a half-moon shaped cheese. Another idea is to cut the cheese into 4 or 6 smaller wedges and serve it that way. In the recipe we are keeping the cheeses whole though, just for visual appeal. Continue reading →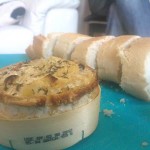 I love Camembert baked in its box! It's one snack I never get tired of. Cheese makes a great starter as well as an after-dinner dessert course. This Camembert appetizer recipe is similar to a cheese fondue and you can dip anything in it, including the bread, pickled vegetables and peppers mentioned here. Raw mushrooms are good for dipping, as are raw carrots and other crudites.
Camembert Baked in its Box: Simple to Make
You can buy Camembert in a box and simply put it in the oven, which is ideal for anyone who wants a simple fuss-free starter recipe which is going to work with both the vegetarians and carnivores around the table, offering the perfect feast for every palate.
Camembert is often served at room temperature with crackers and black grapes perhaps, as a French snack, but it melts so beautifully that everyone should try this recipe at least once. Continue reading →
Some More Hot Content For You
Other Posts You Might Like