baked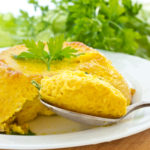 There are lots of egg recipes to choose from if you want to enjoy eggs for breakfast, and this delicious, filling ingredient can be prepared in various ways. This cheese baked omelet is just one of your options.
Boiled, scrambled or fried eggs are always good, or you can make an omelet, either conventionally on the stove, or, if your stove is crowded with other breakfast delights such as bacon, sausage and mushrooms being fried, you can make an omelet in the oven.
Keep things easy using just eggs, milk or cream and a little onion to give the omelet some crunch. You can also add extra vegetables like bell pepper, mushrooms or even some snipped chives or fresh basil.
More Cheese Baked Omelet Tips
The following cheese baked omelet recipe offers four servings, but this omelet keeps for several days in the refrigerator, so enjoy it the next day, maybe with fried or grilled mushrooms on the side or some wilted spinach. Consider this too: halve a tomato and bake that along with the omelet.  Continue reading →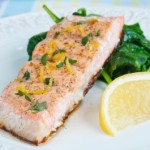 This is an incredibly easy recipe and a great way to prepare salmon. Here we are adding lemon and lime juice to the fish, along with lemon and lime zest if you like. You could stick to either lemon or lime or, like I prefer to do, use some of each for a more interesting flavor in this lemon and lime salmon recipe. Add the zest too if you want, to add more citrus flavor to the salmon and also to add a decorative touch.
Last time I made this lemon and lime salmon recipe, I sprinkled some Old Bay seasoning over the salmon. I wasn't sure whether my husband would like it because he hates celery and celery seed is a major ingredient in Old Bay but he did so that worked out well! I love Old Bay with crab cakes and other seafood dishes, and actually it's great with salmon as well, especially with lemon and lime salmon.
For Lemon and Lime Salmon, Remember: Fresh is Best!
If you only have bottled lemon and lime juice, use that for the lemon and lime salmon, but honestly it pays to use the fresh stuff because it really is better, plus you can serve some lemon and lime wedges on the side too which always looks nice. Serve this with spinach, snow peas or broccoli, and perhaps some mashed potato too or a potato salad if you prefer. You might even prefer a different grain such as couscous or quinoa.
Continue reading →
Some More Hot Content For You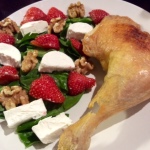 If you have some chicken legs, or chicken leg quarters, in other words the thigh and drumstick attached, then you might be wondering how to cook them. I love to make easy baked chicken legs regularly.
The good news is this cut of chicken is not only economical but filling, tasty (because it is higher in fat than the chicken breast) and easy to cook. Although you can slow cook chicken legs, I nearly always bake them in the oven because this gets the skin really crisp, and that's the best bit!
How to Get Chicken Skin Crispy on Easy Baked Chicken Legs
You will need to add salt plus some kind of fat to get the skin to crisp up. This doesn't need to be butter or oil. If you want something lower in fat, consider spray oil. You only need a quick spritz of it. Choose chicken legs the same size, or close enough, so they cook evenly and have the same cooking time.
It's up to you what else you add to this easy baked chicken legs recipe. You might wish to marinate the chicken legs first or add other herbs or spices, but they're just as nice cooked plain, with simply salt and fat on the skin, because they have a lovely natural flavor, and you can serve them with any kind of side dish.
Continue reading →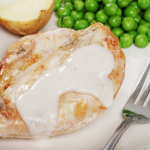 This baked chicken breast with cream of chicken recipe is quick and easy. It makes a great family dinner and everyone at the table will enjoy it. All you need to make this is chicken, a can of cream of chicken soup,  milk, and poultry seasoning.
The resulting baked chicken breast with cream of chicken is juicy and delicious, and pairs wonderfully with mashed potatoes, pasta or rice, and pretty much any vegetable. Try asparagus, broccoli, carrots, corn on the cob, or even colorful mixed veggies.
An Incredibly Easy Baked Chicken Breast Recipe
Anyone can make this baked chicken breast with cream of chicken recipe because it is really simple, and the fact you only need 4 ingredients makes it all the more appealing. Feel free to tweak the recipe, swapping the cream of chicken soup for cream of mushroom soup, cream of celery soup, or even cheese soup. Any of these will work perfectly. Just make sure you're using condensed soup.
You might even want to use half chicken and half celery soup, or half mushroom and half cheese to make baked chicken breast with cream of chicken. If you don't have condensed soup then reduce the amount of milk. For a richer, creamier result, swap some of the milk for Half & Half or light cream.
Continue reading →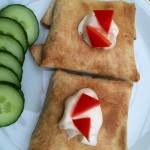 Baked chicken chimichangas might change your whole idea of deep-frying! Chimichangas are gorgeous although they are often considered an indulgence because they are deep-fried. Saying that, it is perfectly possible to oven-bake this tasty snack and that cuts down on fat and calories, offering up a healthy meal which is just as good as its deep-fried cousin! If you want to know how to bake chimichangas read on for a great recipe.
We have chosen to use chicken in this baked chicken chimichangas recipe but feel free to use beef, pork, beans, cheese – anything you want really. The filling is up to you. Some people like to make a vegetarian chimichangas recipe with their favorite fresh, canned and/or thawed vegetables, and that certainly makes a change of pace from the beef or pork varieties.
What really makes chimichangas stand apart is the lovely crispy exterior. It is believed a chef dropped a filled taco into hot oil by accident and uttered the cuss 'chimichanga!' (which isn't really a swearword) but then when she tasted the crunchy tortilla snack, the word stuck, and thus chimichangas were born. Swap the deep frying for the oven though, and try this baked chicken chimichangas alternative.
What to Serve with Baked Chicken Chimichangas
This is a very easy recipe to make and you can serve them with your favorite Mexican side dishes, perhaps Mexican fried rice, cornbread, cheese stuffed chilies, homemade guacamole and/or pico de gallo, or a 7-layer salad.
Continue reading →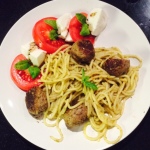 This is a great pesto spaghetti recipe to make if you are in the mood for Italian but also looking for something you can just throw together and have on the table half an hour after you thought of making it!
Spaghetti and meatballs is a typical Italian dish which combines pasta and meat in a simple way, and although a tomato sauce is often served with such a dish, pesto spaghetti is also nice and it is what we are using here, although you can switch one for the other if you like.
We are making baked meatballs and you can prepare the pesto spaghetti while the meatballs are baking, then have everything together at once. Make sure you have some extra fresh basil sprigs for an attractive garnish and consider what you want to serve on the side, or whether you want to omit a side dish and instead serve a tasty side dish such as this delicious Italian bruschetta recipe.
Pesto Spaghetti & Meatballs: Which Meat to Use
Here in Holland you can't get ground pork for whatever reason (don't ask me, I only live here!) so we use half and half (which is half beef and half pork) and that seems to work just fine, but you can use beef or pork if you prefer, or even ground turkey if that is what you like.
Continue reading →
Other Posts You Might Like