basic prawn cocktail recipe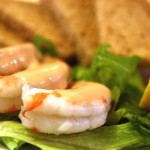 A classic starter recipe, prawn cocktail is delicious and often features as a starter on Christmas day or another special occasion. This salad uses Salad Cream (a British condiment) but you can use mayonnaise in this basic prawn cocktail recipe if you prefer.
Optional Tweaks
There are lots of different prawn cocktail recipes and you can add halved cherry tomatoes or thin cucumber slices if you want. As long as the prawns are well drained, this recipe keeps well in the fridge for a few hours before serving.
This is a very basic pawn cocktail recipe so if you are looking for something more elaborate, you might prefer to look at our classic prawn cocktail recipe instead. Continue reading →
Other Posts You Might Like