best crackslaw
This lovely recipe blends Quorn (a vegetarian alternative to ground meat) with vegetables, peanut butter and other Asian seasonings to make the most delicious quorn crackslaw stir fry you can imagine. Make it as simple or as spicy as you wish.
Whether quorn crackslaw is a new concept to you or you are just seeking other recipes for this dish, this one is worthy of your consideration. Also known as veggie crack, this vegetable crack slaw recipe is addictive because of the wonderful flavors, but feel free to indulge because it's super low in carbs!
Szechuan Crack Slaw Stir Fry
It is your choice how to prepare the vegetables for this dish and also which veggies to use because pretty much anything goes in this wonderful low carb recipe.
Some people like to matchstick-cut (julienne) them while others usually opt for chopping or slicing. Continue reading →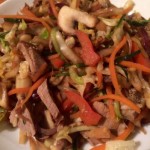 This recipes uses leftover lamb, but you could use any leftover meat to make it. Just chop it into small pieces and then you can add it to the recipe. The vegetables add flavor and color to the dish, and you can feel free to use your favorites. I love lamb crackslaw because it's tasty and oh so filling.
If you want to swap the carrot for broccoli, for example, go ahead. This could be served with a starch on the side, but I usually just have it as it is, because it is satisfying enough like that. In fact it is really filling.
This recipe is really appealing and even if you are not following a low carb diet you will love it.
Hoisin sauce does contain sugar, so avoid this dish during induction, or use a sugar-free, low-carb Chinese cooking sauce instead. Continue reading →
Some More Hot Content For You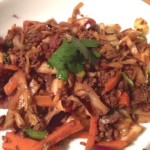 Greek seasonings work their magic in this special crack slaw recipe, while the meat and veggies are sure to fill you up. This Greek lamb crackslaw makes a change from the Asian crackslaw recipes you might be more familiar with, but if you are looking for something different this recipe is ideal.
Ground lamb is used instead of another kind of ground meat, and it makes a great substitute because it is naturally quite fatty which means it comes out succulent and juicy.
Fantastic Flavors
The Greek flavors in this Greek lamb crackslaw recipe come from the addition of tomatoes, herbs and lemon juice. You can also add some black olives if you like. For the herbs, parsley, basil, oregano or mint would go well. Continue reading →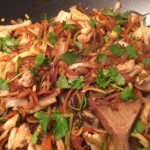 Chicken is a nice meat to use if you want to enjoy that classic crackslaw flavor but limit the amount of calories. Of course beef is tasty but it is high in calories so if you are counting those too, or at least keeping an eye on your red meat intake, you might like to consider using chicken instead. This crack slaw with chicken recipe is simple to prepare and you will love the flavor.
This recipe is made with chicken breast, which is a lean part of the bird, but is still flavorful and will soak up the lovely Asian seasonings used in the recipe.
Delicious Chicken CrackslawThe following recipe makes use of mushrooms, red onion, carrot and white cabbage, so you will not be short on nutrients or flavor.
If you like you can use different ingredients or just use cabbage (no carrots on Atkins induction, remember) or use another kind of mushrooms in this crack slaw with chicken.
Other Posts You Might Like