best loaded nachos comfort food style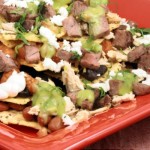 So you want to make the best loaded nachos comfort food? You've come to the right page. Very few dishes offer as much as nachos do, and that includes the wonderful flavors combining spicy with creamy with mild, as well as textures because you have all kinds of those, ranging from soft to crunchy. Nachos can be served as a snack, appetizer or meal, and homemade nachos are, of course, the best!
The following best loaded nachos comfort food recipe combines nachos with beef, homemade pico de gallo, cheese, spices, and more. But this is your recipe so you could take inspiration from the photo and use leftover roast beef instead of the ground beef if you want, or swap the guacamole for chopped avocado, or use queso fresco instead of cheddar.
Just use any toppings you want on this best loaded nachos comfort food and you are sure to end up with a wonderful result. Nachos are typical comfort food and everyone gets excited when you are making them. They are also very cheap to make. Continue reading →
Other Posts You Might Like