biryani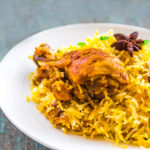 This tasty Indian dish, chicken biryani with drumsticks, offers an incredible flavor and it is not difficult to prepare. I had my first authentic Indian biryani when I was backpacking around India and the flavor really blew me away.
This recipe originated in the Indian subcontinent or Persia, and it is enjoyed all over Central and South Asia, as well as in the Middle East. Rice, spices and meat and/or vegetables are the main ingredients.
Biryani may be compared to pulao rice but biryani is usually cooked with layered meat and rice and pulao is not layered at all. Chicken biryani with drumsticks is usually a main dish while pulao tends to be more of a side dish.
How Biryani Gets its Flavor
Popular ingredients in an Indian biryani recipe include clarified butter (known as ghee), coriander, cinnamon, cardamon, cloves, ginger, garlic, onions, and nutmeg, but every recipe is different. Saffon can be added to the dish, and some will use turmeric or yellow food coloring to color the rice. Continue reading →
Other Posts You Might Like