braise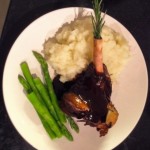 I fell in love with lamb shanks the first time I ever tried them. They are so tasty, so juicy and the flavor is amazing. Lamb shanks are best slow cooked and, although you can do them in the oven, a crockpot or Dutch oven will be your very best friend in the kitchen if you want really great results from this braised lamb shanks in red wine sauce recipe.
One lamb shank per person is enough, and they go really well with mashed potatoes and vegetables (maybe red cabbage, asparagus or carrots) along with your choice of sauce. I like to make lamb shanks in the crockpot and then either spoon the sauce directly over the meat, or else reduce it in a pan to make it thicker.
Tips for Braised Lamb Shanks in Red Wine Sauce
The following braised lamb shanks in red wine sauce recipe is best made in a Dutch oven, a large, heavy-bottomed pot. If you prefer to use a crockpot, sear the meat first, then put everything in the crockpot and cook it for about 8 hours on low or 5 hours on high, or until the lamb is so tender it is almost falling apart.
If you want to leave out any of the vegetables that is fine. At the end, you will need to use an immersion blender (handheld/stick blender) to get the sauce smooth. Add as much hot water as needed. The sauce should be thick but not too thick. Continue reading →
Other Posts You Might Like