braised lamb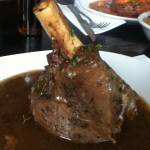 Lamb shanks are always good although they tend to be more expensive nowadays than before. Go back a few years and the price was much lower, the reason being well-known chefs are beginning to serve lamb shank recipes in their restaurants, pushing up the price. This easy lamb shanks with garlic recipe is reminiscent of classic lamb shank dishes.
Never mind about the price being more than it was. Lamb shanks are not prohibitively expensive, they make a great dish, they are easy to cook and the meat, when cooked properly, is falling-apart tender and oh so flavorful. I like to cook easy lamb shanks with garlic often and I tend to cook them in the crockpot. The aroma while they cook is just incredible! But braising them in the oven is also a great idea and they will come out juicy, succulent and tasting just as wonderful as they look.
In the following easy lamb shanks with garlic recipe we are browning the lamb and some vegetables then adding garlic, herbs, white wine and stock to make a flavorful sauce. A lot of lamb shank recipes have red wine but this one uses white wine. If you prefer a lamb shank recipe without wine then simply swap the white wine for extra stock, either chicken stock or lamb stock.
Other Posts You Might Like