bread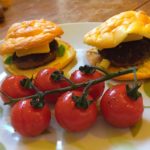 There is low carb bread and there is this very low carb bread recipe. If you've been doing Atkins or low carbing for a while, you will have tried some of the more 'eggy' or 'dense' breads and while they are passable (just!) they aren't exactly a good bread substitute.
Some low carbers will forgo the bread entirely, choosing to wrap their burger or sandwich in a large lettuce leaf instead and while there is nothing wrong with that, sometimes it's nice to have something a bit chewier and more bready, even if it isn't going to be that high-carb processed stuff you used to eat before.
There are various names for the very low carb bread recipe I am talking about – revolution rolls, cloud bread, oopsie bread, each having a slightly different recipe and preparation technique.
Here I am sharing what I found works best of all, and that's a bread which is easy to make, uses clean ingredients (ie, not processed) and is low in carbs but offers a nice taste and chewy bread-ish texture. Continue reading →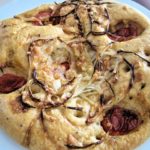 Focaccia is a tasty Italian bread which complements all kinds of dishes. Although you can buy it from the bakery or grocery store, making your own easy tomato and onion focaccia loaf is worthwhile because let's face it – you can't beat freshly baked bread! And this one is certainly no exception.
How to Serve Focaccia
You can serve this easy tomato and onion focaccia as an appetizer, either alone or with dips like sour cream dip or onion dip, or else have it with your main dish. If you are having beef, chicken or similar in a sauce, focaccia bread can be used to scoop up every last drop of those yummy meat juices, making it a worthwhile accompaniment to any Italian meal.
This recipe is simple to follow. Grab some yeast, flour, salt, oil, onion, tomato and oregano to make it, and allow an hour or so time for the dough to rise. This baked Italian bread is similar to pizza dough and is often served with appetizers or tapas in Italian cuisine.
Why Focaccia Rises More
Focaccia uses more yeast than pizza dough though, so it rises more. Serve this easy tomato and onion focaccia flat bread with your appetizers, alone with aperitifs, with dips (fusion style) or alongside your Italian inspired meat or fish dish, and you're sure to have a winner on your hands. Continue reading →
Some More Hot Content For You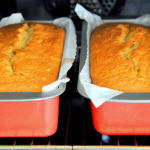 This incredibly easy banana bread with applesauce recipe is made by combining bananas with applesauce, eggs, vanilla and flour. Some sugar, baking soda, baking powder and salt also go into the mix. Making this is very straightforward because you just have to combine the ingredients in a bowl, transfer the resulting mixture into a greased loaf pan, and then you can bake it until done.
Easy Banana Bread with Applesauce: Such a Tempting Snack
Served hot with butter and honey, this makes the most amazing snack, and it is a great comfort food. Homemade banana bread appeals to all the family from the youngest to the most senior, and there are all kinds of tweaks you can apply, such as adding chocolate chips, walnuts or raisins.
The applesauce increases the sweetness without having to use extra sugar, and it also helps keep the bread moist and dense, which good banana bread should be. Make this easy banana bread with applesauce loaf for the kids and they'll be sure to enjoy it.
Continue reading →
A bruschetta recipe is one of the best Italian appetizers. It is made by rubbing garlic over grilled bread, then adding olive oil, tomatoes, salt and pepper.
Some types of bruschetta recipe might also include cured meat, cheese, tomatoes, beans, or vegetables. The best-known bruschetta recipe outside Italy features fresh tomato, garlic and onion, fresh basil, and mozzarella.
So Many Bruschetta Recipe Options
A great bruschetta recipe is found on Italian restaurant menus all over the world, and there are hundreds of different ways to make it, which is why restaurant bruschetta ranges from bland to wonderful, depending who is making it. Make your own, following our recipe, and you can be guaranteed of an amazing result.
Continue reading →
Other Posts You Might Like