breakfast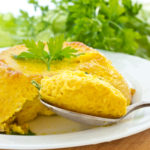 There are lots of egg recipes to choose from if you want to enjoy eggs for breakfast, and this delicious, filling ingredient can be prepared in various ways. This cheese baked omelet is just one of your options.
Boiled, scrambled or fried eggs are always good, or you can make an omelet, either conventionally on the stove, or, if your stove is crowded with other breakfast delights such as bacon, sausage and mushrooms being fried, you can make an omelet in the oven.
Keep things easy using just eggs, milk or cream and a little onion to give the omelet some crunch. You can also add extra vegetables like bell pepper, mushrooms or even some snipped chives or fresh basil.
More Cheese Baked Omelet Tips
The following cheese baked omelet recipe offers four servings, but this omelet keeps for several days in the refrigerator, so enjoy it the next day, maybe with fried or grilled mushrooms on the side or some wilted spinach. Consider this too: halve a tomato and bake that along with the omelet.  Continue reading →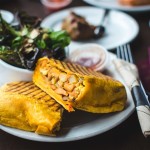 A beloved Mexican and Tex-Mex food, a burrito makes a great lunch, dinner or snack. And this is the best breakfast burrito recipe I ever tried! One modern trend is all about presenting this hearty delight first thing in the morning and calling it a breakfast burrito. So you can have your breakfast all rolled up neatly burrito-style. A breakfast burrito recipe will contain typical breakfast ingredients like potatoes, bacon, eggs, mushrooms, whatever else you like. These fillings will be hot and cooked, enclosed in a soft flour tortilla.
Burritos are wrapped or folded to enclose the filling, unlike a taco which is usually folded in half around the filling. Some people like to steam or lightly grill the tortilla to softed it, so it wraps around the filling more easily. Order a regular burrito in Mexico and you can expect meat and refried beans to be your typical filling. Head north of the border into the US though and you will find a wider variety of fillings like rice, beans, lettuce, salsa, cheese, sour cream, guacamole and, where breakfast burritos are concerned, even bacon, eggs and hash browns – hey, why not!
The word burrito translates from the Spanish to mean 'little donkey' and it is thought the name comes from the look of the bedrolls and packs donkeys used to carry. Try this best breakfast burrito recipe when a bowl of cereal simply isn't enough to prepare you for the day ahead. Continue reading →
Some More Hot Content For You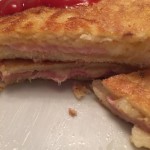 French toast, also known as eggy bread, makes a great breakfast. The bread is usually dipped in beaten eggs and then pan-fried until golden brown. This recipe takes the classic French toast to the next level, however, by adding ham and cheese to the mix. This is known as a Monte Cristo sandwich, and can be pan-fried or deep-fried. Ham and cheese French toast is something kids love, and so do the grownups!
Serve ham and cheese French toast with some ketchup for breakfast, brunch or a hot snack at any time, and enjoy the wonderful flavors. This is a snack which is sure to keep you feeling satisfied until your next meal. Serve these sandwiches hot from the pan and enjoy the wonderful crispy outside and the gooey cheese inside.
What Bread for Ham and Cheese French Toast?
You can use any kind of bread for ham and cheese French toast, perhaps baguette or ciabatta, or even regular sliced bread. It is best to use day-old bread because very fresh bread is more delicate and can tear. Use ready-sliced ham and cheese to save time. Cheddar is good here, or you can use any other type of melting cheese you want. Emmental or Gruyere are really good in this Monte Cristo recipe as well. Continue reading →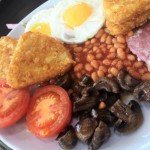 An English breakfast, often known as a full breakfast in England, is a breakfast meal which usually includes back bacon, fried, scrambled or poached eggs, sausages, and sometimes tomatoes, mushrooms, hash browns (yes they're American not English, but popular these days!), black pudding, baked beans, toast or fried bread, and tea or coffee. Want to know how to make an English breakfast yourself? Read on for some tips.
Bubble and squeak (mashed potatoes and cooked vegetables mashed together and fried) sometimes feature, while in the North you might get fried or broiled oatcakes instead of fried bread or toast.
How to Make an English Breakfast as an All Day Breakfast
Some pubs and cafes in England offer an 'all day breakfast' so you can enjoy this tasty meal whenever you like, whether you wake up late but not late enough for lunch, or you just crave a delicious English breakfast later on in the day. Another name for this type of breakfast in the UK is 'fry up' because most items on the plate are fried. Learn how to make an English breakfast and you can make this today. Continue reading →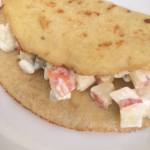 Whether you are looking for a tasty breakfast recipe, a quick snack or even a sweet treat when you get peckish in the evening, this easy banana pancakes recipe is ideal. You can combine the ingredients in a couple of minutes, then cook the pancakes in a skillet on the stove for a few minutes.
Serve them just as they are, drizzled with some syrup or perhaps will chopped fruit or berries as a filling. You can also tweak our recipe, perhaps adding some cinnamon or nutmeg or even a little brown sugar. The sweetness of the banana means you don't really need to add any sugar to the pancake batter, especially if you are going to serve it with syrup, but you know your palate best, so tweak it as you wish.
You can cook these in oil, butter or cooking spray, as you wish. Don't make them too thick, so unless you have a big skillet you might wish to divide the batter in 2 and cook 2 pancakes. Cook them on one side, then flip and cook the other side. The raw batter is very pale yellow, nearly white, and the finished pancakes are golden.
Continue reading →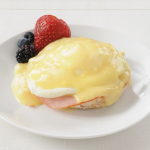 Easy eggs Benedict is one of the most amazing breakfast recipes ever. A toasted English muffin is topped with Canadian bacon, poached egg and finally homemade Hollandaise sauce for a rich, creamy and mouthwatering eat.
There are plenty of recipes online for diet versions of this dish but in my opinion nothing beats the real thing, so save this for a special occasion like your Christmas morning breakfast, or make it for someone's birthday if you are concerned about the fat/calories or whatever. Made this way, you are sure to end up with the most mouthwatering version of the dish – the original version.
If you are making this for vegetarians, you can swap the Canadian bacon for spinach (that results in a dish called eggs Florentine which is also very tasty and of course boasts extra nutrients).
Continue reading →
Other Posts You Might Like