breda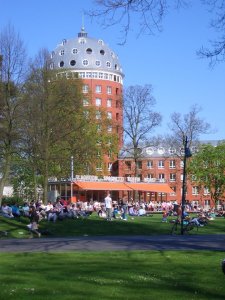 Breda (pronounced bray-DAH) is a city and municipality in the south of the Netherlands. The name comes from 'brede Aa' which means 'wide Aa', referring to where the rivers Mark and Aa meet. In 2014, Breda, Netherlands had 180,420 residents.
Breda is known for its food and drink industry, and companies like Van Melle (Mentos), Kwatta (chocolate), Hero (soft drinks), and De Faam (licorice) are based there and known throughout Western Europe.
Breda beer is exported all over the world, and there is also a sugar factory there to supply the sweet stuff to the food and beverage factories. The biggest brewery in the Netherlands, Oranjeboom, was based there before it closed down in 2004 and production was moved to Leuven and Bremen. If you're into beer, visit Breda, Netherlands and enjoy trying the local varieties.
These days the main economic activities in Breda, Netherlands are trade and business. The city is connected to other main European cities by a high-speed train line.
I married a Dutchman and have been living here for a few years, so I am going to share my knowledge and tips with you! Whether you are in Breda for a day, a week, a month, or longer, there is plenty to keep you occupied. Whether you prefer shopping, eating out, walking, visiting castles or places of interest, historical landmarks, or simply wandering around enjoying the sights, Breda offers something for every tourist. I'd say about 95% of the locals speak at least some English, and many speak very good English. Most are also friendly if you need help finding your way around or if you happen to get lost. Continue reading →
Some More Hot Content For You
Other Posts You Might Like