burger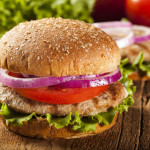 Making a change from your usual burgers perhaps, these boast the lighter flavor of turkey. We are adding lemon and oregano for flavor, and stuffing the oven baked turkey burgers with feta cheese for a wonderful tang.
The mint-cucumber dressing with these oven baked turkey burgers adds a Mediterranean touch, and you just need to combine equal parts of yogurt and grated cucumber to make it, adding in some fresh mint too. Oven baking these burgers is simple although you may pan-fry them if you prefer, or even pop them on the barbecue if it's fired up already. If you wish to prepare the patties in advance you can just leave them in the refrigerator until it's time for dinner.
How to Serve Oven Baked Turkey Burgers
Serve these oven baked turkey burgers with a simple salad, with some grilled or sauteed veggies, or with coleslaw, potato salad, corn on the cob, or anything else you are in the mood for. Whoever knew oven baked turkey burgers could be so flavor-packed and delicious? This recipe makes 4 of them, so you can double it if there's a crowd of you. I haven't tried this with ground chicken but that would probably be good too. Continue reading →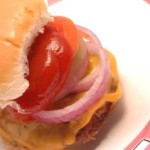 Sometimes nothing can beat the comfort food appeal of a juicy, freshly cooked hamburger. If you make cheeseburgers at home, you might be interested in learning a few handy cheeseburger tips to ensure your burgers always come out perfectly.
One of the most important parts of your cheeseburger is the meat you use for the patty. For the best results, you should choose 80/20 ground meat. That means it is 80% lean and 20% fat. If you use lean, or worse still extra-lean, meat, you will end up with a dry burger, and that is never attractive. Fat isn't the enemy. Serve your burger with some salad or a vegetable side dish to balance out the meal.
One of the best cheeseburger tips: the cheese is just as important as the meat, but there is no reason why you must use American sliced cheese. Experiment with some different kinds, like halloumi, feta, white cheddar, fontina, Asiago, or a Mexican cheese blend, to add a brand new taste. Blue cheese can be really good in there too. Continue reading →
Some More Hot Content For You
Other Posts You Might Like