cauliflower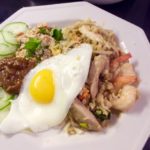 This cauliflower nasi goreng – low carb and tasty – might well earn a place on your regular meal rotation. It's just so special! Nasi goreng is a delicious dish from Indonesia, which I've enjoyed plenty of times since moving to the Netherlands, since the Dutch are very much into Indonesian foods.
Although this is a rice-based dish and you might think no way can that be low carb, swap the rice for cauliflower and it will be! Also, because this is a spicy dish (a dish with spices, not necessary 'hot' if you don't want it to be) you won't taste the cauliflower.
What is Nasi Gorgeng?
The name 'nasi goreng' means fried rice in Malay and Indonesian, and the term can refer to pre-cooked rice with a little cooking fat and kecap manis, which is a sweet soy sauce. Shallot, tamarind, chili and garlic are typical ingredients, along with egg, shrimp and/or chicken. Sometimes salted dried fish are used instead of the other proteins.
This recipe is known as Indonesian although it is also popular in Malaysia, the Netherlands and Singapore. Nasi goreng can be enjoyed everywhere from roadside stands in Indonesia to Jakarta buffet tables or fine restaurants. This is known as the national dish of Indonesia, although I'm not sure what the locals would make of this low carb cauliflower nasi goreng variation. This dish was developed as a way to avoid wasting cooked rice, since frying can stop dangerous microbes propagating especially before refrigeration was commonplace like it is today. Continue reading →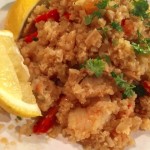 When I worked in Gran Canaria I used to eat paella a lot. In fact I made friends with a local chef who used to make a special batch for me minus the peas (my pet food hate!) This rice-based delicacy was served with half a baguette, plenty of alioli, or ai oli (or garlic mayo) and perhaps a sangria on the side. At that time I had never even heard of a low carb paella using cauli rice because I was enjoying the real thing too much to deviate.
Try as I might, I could never tire of this wonderful Spanish dish. Fast forward a decade and I still love that flavor but my husband is diabetic and rice is a no-no. So I wondered at this point whether cauli rice would work, since it is great for making other cauliflower rice recipes like egg fried cauli rice and lots of other cauli rice recipes.
This is why I tried my hand at a low carb paella using cauli rice a couple of evenings ago. I thought I would add chicken and seafood, along with chicken broth, smoked paprika and saffron to get that authentic flavor, and considering the main ingredient was swapped for a paella rice substitute I have to say it worked really well! Continue reading →
Some More Hot Content For You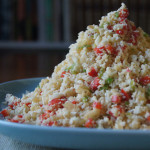 Cauliflower rice, also known as cauli rice, is a low-calorie, low-carb alternative to regular rice. You can make it with a food processor or, if you don't have one, a cheese grater. There are different ways to cook cauliflower rice recipes too, such as on the stove, in the oven, or even in the microwave. Although cauliflower obviously doesn't share the exact same flavor as rice, you can get the appearance and texture very close.
It is well worth knowing how to make cauliflower rice recipes, even if you are not trying to reduce your carb or calorie intake. Cauliflower is rich in protein, thiamin, niacin, riboflavin, phosphorus, magnesium, vitamins C, K, B6, potassium, manganese and pantothenic acid. It is very low in cholesterol and saturated fat.
Whether you are looking for a paleo cauliflower rice, Mexican cauliflower rice or coconut cauliflower rice recipe, or something else, there are certainly a lot of different recipes to choose from, both mild and spicy, traditional and exotic, vegetarian, vegan and anything else you can think of.
Continue reading →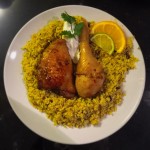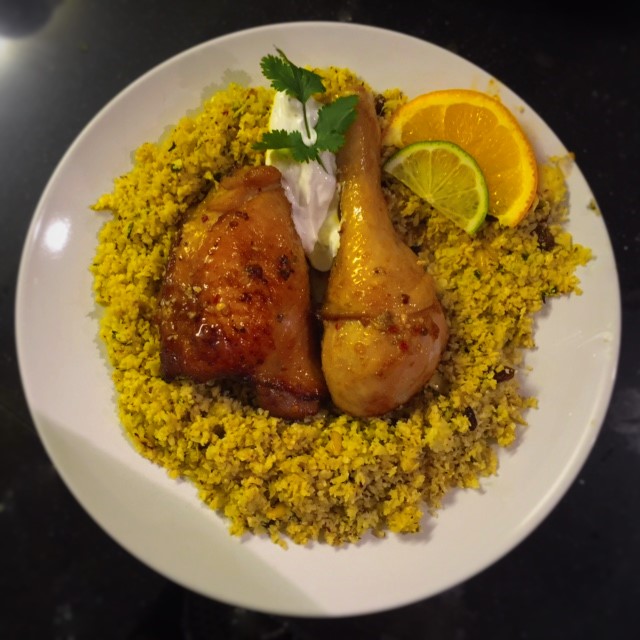 Cauliflower rice, or cauli rice as it is affectionately  known, is a wonderful substitute for rice, offering a mere fraction of the calories and carbs or rice, yet offering a very similar texture and a neutral flavor. You can do so much with it and there are plenty of cauliflower rice recipes to choose from. This cauli rice with orange, lime and cilantro recipe is easy to prepare and it's yummy!
I like to use a medium or strong-flavored sauce to disguise the cauliflower flavor – not that cauliflower has much of a taste at all, but just to make it as rice-like as possible. Try Chinese rice with cauliflower instead of rice, or consider Mexican cauli rice or Italian flavors.
It is easy to prepare this cauli rice with orange, lime and cilantro recipe if you have a food processor. Simply break a fresh cauliflower into florets and whiz them in the food processor until rice grain-sized. If you don't have a food processor that is okay, just use a cheese grater instead. It will take longer and you will get a similar result. Continue reading →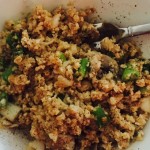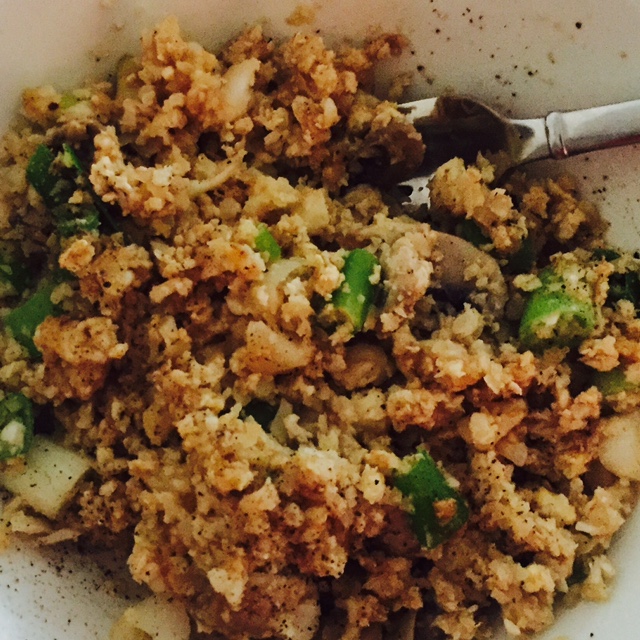 Using cauliflower instead of rice is a great idea if you are looking to cut calories, carbs, or you simply don't want to have rice but you want something similar in texture. Try this egg fried cauli  rice recipe and you will soon see what all the fuss is about!
Pop some cauliflower florets in the food processor, press the button, and a couple of seconds later you will have something resembling rice, which can be transformed into egg fried 'rice' or even something like our yummy Mexican cauli rice recipe (opens in new link) which is low in calories and tastes gorgeous.
Always a Great Meal
I made this egg fried cauli  rice recipe for lunch today and found it quick and easy. This pan-fried cauliflower rice is delicious and you can add anything you like in there. I just used green onion, mushrooms, soy sauce, egg and a dash of sesame oil along with the cauli rice but you may add anything else in there.
Perhaps you have some leftover cooked chicken or shrimp to use up, in which case throw them in and warm them up for a couple of minutes. Did you open a can of corn kernels or peas yesterday? Add a spoonful of those into the cauli-rice mix if you want. Continue reading →
Other Posts You Might Like