cheese stuffed calamari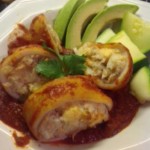 This squid is stuffed with an aromatic garlic, ricotta and Parmesan mixture, and then slowly braised in a delicious tomato sauce. Choose cheese stuffed squid in tomato sauce if you want to impress. This is a classic stuffed calamari recipe and the flavor is so good. Squid has to be cooked very fast or very slow, and in this recipe it is slowly cooked for about half an hour and then you should be able to slide a sharp knife through the squid easily. When you can do this, it is ready to serve.
The nicest way to stuff squid is to slice it into equal sized pieces and arrange them on a plate, so you can see the filling. You could just serve the squid whole but that might be a bit ungainly looking especially if you are using big squid tubes.
Cheese Stuffed Squid in Tomato Sauce Pairings: Satisfying Side Dish Ideas
Toss your favorite salad greens together to make the perfect side dish. Another idea is to serve avocado or other tasty vegetables. Some people like to serve a warm side dish, not a cold one, so consider corn on the cob or broccoli if you like. Continue reading →
Other Posts You Might Like