cheese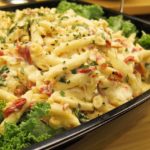 Pasta salad is always a winning dish. It is cheap to make, you can use leftover cooked pasta or cook some in about 10 minutes, and there are all kinds of flavors you can add to this easy pasta salad with parmesan cheese.
In this recipe we are keeping with the Italian theme (although you might like to look at our Indian pasta salad for a wonderful fusion idea!) by incorporating parmesan cheese and sun-dried tomatoes.
Dressing Tweaks
Although the tangy red wine vinegar dressing is good, sometimes I prefer to just use mayo for a super-simple dressing which boasts a lovely creaminess everyone is going to love. You can add other flavors to the mayo too, like mustard, spices or dried or fresh herbs, as you like.
Use white pasta for the best result – perhaps penne, shells or another favorite. For pasta salad, avoid the long kinds like spaghetti or linguine, and go for something that's easy to pick up on the fork or scoop up in a spoon.
This recipe can be made quickly and easy, and it is an excellent pairing for everything from grilled chicken to burgers, steaks or even fish. Why not make a big batch for your next barbecue event or party? Continue reading →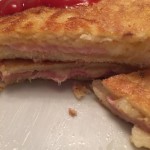 French toast, also known as eggy bread, makes a great breakfast. The bread is usually dipped in beaten eggs and then pan-fried until golden brown. This recipe takes the classic French toast to the next level, however, by adding ham and cheese to the mix. This is known as a Monte Cristo sandwich, and can be pan-fried or deep-fried. Ham and cheese French toast is something kids love, and so do the grownups!
Serve ham and cheese French toast with some ketchup for breakfast, brunch or a hot snack at any time, and enjoy the wonderful flavors. This is a snack which is sure to keep you feeling satisfied until your next meal. Serve these sandwiches hot from the pan and enjoy the wonderful crispy outside and the gooey cheese inside.
What Bread for Ham and Cheese French Toast?
You can use any kind of bread for ham and cheese French toast, perhaps baguette or ciabatta, or even regular sliced bread. It is best to use day-old bread because very fresh bread is more delicate and can tear. Use ready-sliced ham and cheese to save time. Cheddar is good here, or you can use any other type of melting cheese you want. Emmental or Gruyere are really good in this Monte Cristo recipe as well. Continue reading →
Some More Hot Content For You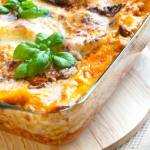 This delicious lasagna with ricotta and Italian sausage is a snap to make and it freezes well too if you wrap individual portions in plastic wrap and then aluminum foil. Simply unwrap and reheat any time you want to enjoy this ricotta lasagna again. If you want to use ground beef rather than the Italian sausage, go ahead.
Tasty Lasagna with Ricotta and Italian Sausage Additions
Some people like to add some sage to the sausage or use sweet sausage instead of the hot kind and add some red chili flakes. You know which you like best, so go ahead and choose your favorite kind when preparing this lasagna with ricotta and Italian sausage. If you want to use a ready-made, herbed tomato-based sauce rather than the tomato sauce and canned tomatoes, again go ahead.
As well as our basic ingredients in this lasagna with ricotta and Italian sausage recipe, which are the meat, 3 cheeses, lasagna noodles and tomatoes, we are using garlic, parsley, oregano, basil to add aromatic accents to the overall flavor of this dish. After preparing the various components we are going to layer them in a glass lasagna dish, then bake the lasagna in the oven.
Continue reading →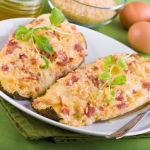 Low in calories but high in flavor, this wonderful baked stuffed zucchini boats recipe is sure to please your palate. The middles of the zucchini are scooped out and then you can add a wonderful ham and cheese filling, and bake them to perfection.
This is a very easy baked stuffed zucchini boats recipe which is nice served with Spanish rice or risotto, and just as nice served alone as a savory snack. If you want to make this dish vegetarian friendly, simply omit the ham, or else you might like to swap it for shrimp, salmon, walnuts, or pretty much anything else.
Tweak the Filling to Make It Your Own
The main ingredients in this baked stuffed zucchini boats dish are the zucchini and the cheese, so just add whatever you want to that mixture. You can also swap the ham for bacon, for a slightly different flavor, or even add some sausage.
Continue reading →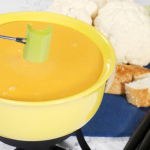 Cheese fondue is an amazing dish made with melted cheeses and other ingredients, and served with chunks of bread for dipping. Making fondue is really simple, and largely just a matter of adding your ingredients to a fondue dish and letting them melt and blend.
Some fondue sets use a flame while others are electric. You can also get different kinds, so if you like to make chocolate fondue or meat fondue, you might like to collect the fondue kits, since the thick earthenware cheese fondue bowl isn't the one needed to make meat or chocolate fondue.
Our recipe for cheese fondue is very simple to make and you will love the authentic cheese flavors. Serve this with baguette bread cut into pieces and everyone will really enjoy your homemade Swiss fondue. You might like to serve other items for dipping too, such as chopped celery, button mushrooms, or even fruit chunks.
Continue reading →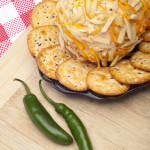 Find out how to make a delicious cheeseball by combining ingredients like cheese, garlic, cream cheese, nuts, bacon and other ingredients. Cheeseball recipes have been around for decades but they never lose their appeal!
So what do you serve with cheeseball recipes? Well they are great for dipping crackers, chips or bread slices and the softer ones are even good with softer ingredients. Take your pick but crackers are my preference.
Do You Serve Cheese Balls Chilled or Not?
Well you can leave your cheese ball at room temperature to soften it or keep it chilled until serving for extra firmness. But don't serve it too cold or you won't be able to scrape bits off with the crackers. Don't serve cheeseball recipes too warm either else they will melt!
They are a wonderful answer if you are looking for dinner party starter recipes or dinner party appetizers. You can make cheeseballs ahead and simply chill them until you are ready to serve the cheeseball along with whatever accompaniments you want.
Continue reading →
Other Posts You Might Like