chicken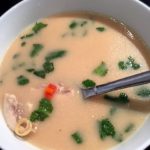 This delicious Thai tom kha gai soup recipe is made with 10 ingredients only plus a few optional extras for serving. We are using chicken and mushrooms to make this, along with typical Thai ingredients like galangal, lemongrass, lime, coriander, coconut, fish sauce and palm sugar to make it.
This is a tasty, filling Thai chicken soup recipe and it's also therapeutic if you're under the weather or suffering from a cold or the flu. The chicken and vegetables are nourishing while the steam from the soup helps with decongestion.
As for the garnish, we like to present this traditional tom kha gai soup recipe with cilantro, chilies, lime leaves and lemongrass but feel free to omit one or all of those, as you prefer.
How to Serve Our Tom Kha Gai Soup Recipe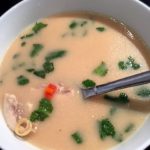 This makes a great lunch or evening meal, perhaps served with something crunchy as an appetizer. Egg rolls or spring rolls would be fine, or you might like to have something seafood-based to begin the meal instead. Because this is a spicy soup, consider following up with something creamy to cool the mouth, perhaps mousse or ice cream.
While the Spice is Nice in Thai Chicken Soup… Tweak as Needed
Feel free to alter the amount of spice in this tom kha gai soup recipe. Not everyone likes the chilies although they are popular in many Asian cuisines so those cultures are more accustomed to them.
A lot of traditional Thai recipes are quite spicy but when making your own you are in charge of what goes in there, so alter the recipe as you see fit. If you are a fan of Thai recipes, try our Thai fried rice or Pad Thai dishes. Continue reading →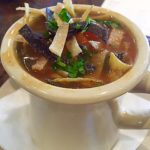 Chicken tortilla soup is one of my favorite soups. I love everything about it – the juicy chicken, the tomato-ey broth, the crisp tortillas on top, the cheese, just… everything! I like to keep my soup recipes simple, so you will see the following is as streamlined as I could make it. Grab the ingredients you need and make this. I promise, whether you want a light lunch or simple supper, you're going to love it. There are lots of different chicken tortilla soup with Rotel tomatoes recipes to try but I happen to like this one just because it is so easy.
What You Need to Make It
Along with the cooked chicken and Rotel tomatoes you will need refried beans, chicken broth, corn and either some fried tortilla strips or broken tortilla chips, whichever you have.
If I am jazzing this up, I might add a scoop of sour cream and some avocado on top, and I like to add a good amount of shredded Mexican blend cheese as well. Those additions to the basic recipe make all the difference, but they are purely optional. So just add what you want to have.
This chicken tortilla soup with Rotel tomatoes makes a great meal and it's surprisingly filling too. There are crockpot chicken tortilla soup recipes too, but honestly if you're using leftover shredded chicken you might as well simply mix the ingredients together in a pan and cook the soup in a matter of minutes. Continue reading →
Some More Hot Content For You
I first tried this amazing corn pie in Chile and immediately fell in love with it. The ingredients might sound a little strange but it's really good, I promise! Some people use beef while others use chicken. The corn topping on this pastel de choclo recipe is crisp, sticky and sweet and the eggs, black olives and other ingredients lend authenticity.
Side Dish Options
What is a good side dish for our pastel de choclo? Well, I like it with a simple tomato, garlic and onions salad on the side, or you might want to steam some broccoli or another favorite vegetable instead. This keeps well in the refrigerator for a few days and is easy to reheat in the microwave.
What Kind of Corn to Use
Although some people prefer to use fresh corn when making a pastel de choclo recipe, I usually just use the canned kind which is fine in this corn pie as long as you drain it properly. Feel free to adjust the amount of sugar. It helps with the caramelization but my husband is diabetic so I usually use half sugar and half sweetener. Continue reading →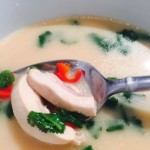 Yesterday I decided to get a Thai massage. I suffer from a stiff neck and shoulders. For some reason, I hold all my tension in there! I love a good hot oil massage but the Thai massage is, well slightly different. More 'painful' but today I can move really freely and feel great! The woman was literally walking up my legs and back, digging her knees and elbows into me and making me yelp! However, 'no pain no gain' as they say, and today I can honestly say I feel great after it. And yes, all that gave me the inspiration to make this authentic Thai chicken soup recipe.
Thai Food Inspiration
While I was having this massage, I was listening to Thai music, gazing around the room at Buddha statues, candles and Thai pictures, and afterwards sipping a Thai tea. So I guess I got a craving for Thai food! For this reason I decided to make tom kha gai, or Thai chicken soup, for lunch once I got home. I had most of the ingredients already, I just needed to grab some chicken and cilantro.
I found this authentic Thai chicke soup recipe quick and easy to put together and the flavor was wonderful. Making the chicken broth before sieving the 'bits' out and using it to make the actual soup is recommended. Just begin with all the ingredients laid out, plus one pot, one sieve and a serving bowl and spoon, and you will find this an absolute breeze to prepare.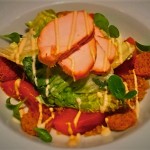 This easy chicken and peach salad takes mere minutes to put together and it's a great way to use up leftover cooked chicken. I've made it with chicken breast but you could use other cooked chicken pieces or some deli chicken slices. You could even use rotisserie chicken to make this (perhaps, still warm – yum!)
This easy chicken and peach salad is made on a bed of iceberg lettuce, but of course you can switch the iceberg for any variety. Baby salad leaves would be good or chopped romaine. I like to add some lamb's lettuce or a contrasting variety as well. Then you have the chicken on top, plus some peach for juicy sweetness, and then some crispy, crunchy croutons for a contrasting savory flavor and different texture.
Easy Chicken and Peach Salad Dressing
The easy chicken and peach salad dressing is an interpretation on Marie Rose sauce or thousand island dressing. The whisky in our easy chicken and peach salad dressing is optional (but throw some in if you have it) or you can use brandy. Actually this sauce is normally served with seafood recipes such as prawn cocktail but it goes just as well with chicken thanks to the chicken's neutral, simple taste.  Continue reading →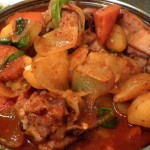 Chicken is a popular ingredient in Mediterranean cuisine, and this Spanish inspired recipe makes the most of chicken thighs, a naturally juicy, flavor-packed part of the bird. Chicken thighs tend to be more economical than chicken breasts, and they also offer more juiciness and a richer flavor, so you have a win-win situation if you choose to buy them and use them in this Spanish paprika chicken recipe. Look out for discounted ones because they freeze beautifully.
What to Use in Spanish Paprika Chicken
We are adding onion and garlic to our Spanish paprika chicken, along with red wine vinegar, tomato paste, mustard, paprika, chicken stock and sherry, plus potatoes (or, if you prefer, use half potatoes and half carrots).
You can tweak the ingredients for Spanish paprika chicken if you wish, if you don't have something or want to throw something else in there. The chicken stock can be switched for mushroom or vegetable stock. You can also throw in some button mushrooms or bell pepper strips which need to be used up. Any of those would be fine. Continue reading →
Other Posts You Might Like