chocolate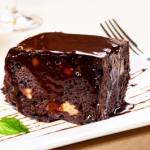 This is a rich and tasty chocolate walnut cake featuring all the best sweet flavors that go amazingly together. Chocolate cake is good, as is walnut cake, but combine the two and – bam! You have an incredible cake boasting the rich taste of chocolate and the distinctive crunch of walnut in every mouthful. This cake is easy to prepare and decorating it with the ganache is a breeze.
To make this flavorful cake you are going to need butter, chocolate, cocoa, coffee, eggs, sugar and walnuts. The frosting uses cream and dark chocolate along with some more walnuts to garnish the finished cake.
When to Make this Chocolate Walnut Cake
This chocolate walnut cake is suitable for all kinds of special occasions, such as a birthday or christening, or you might want to make it if you're in charge of the dessert part of a potluck buffet or simply because you want to try a brand new cake recipe.
Chocolate walnut cake recipes vary but this one is particularly straightforward so you should find it very easy. It's best if you have a mixer and microwave, but you can still make it (just with a bit more elbow grease) even if not.
Continue reading →
Other Posts You Might Like