cilantro shrimp wonton soup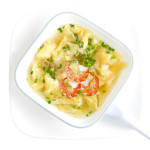 Some people make wonton soup by dropping their filled wontons into their prepared stock and letting them simmer in there but others prefer to cook the wontons in water and then add them to the soup, so as not to make the soup cloudy. Since you are the cook and the one who is going to be eating the dish, it is totally up to you. You can prepare your cilantro shrimp wonton soup however you prefer.
The first few times I made cilantro shrimp wonton soup I put the wontons directly in the soup mixture and let them cook in there, but then I experimented with cooking them in water and then lifting them into warmed serving bowls using a slotted spoon and ladling the hot soup over the top. Both ways are good, the second perhaps more authentic. You will just need an extra pot.
This cilantro shrimp wonton soup recipe features shrimp (both whole ones to garnish the soup and minced ones inside the wontons) as well as plenty of sesame oil and cilantro. The stock for this shrimp wonton soup recipe is made by infusing ginger, cilantro and more in a basic chicken stock and then sieving out the additions. It is important to serve a tasty stock with your wontons. Continue reading →
Other Posts You Might Like