comfort food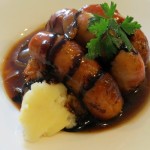 What is bangers and mash, you might be wondering, and how do you make a British bangers and mash recipe? Well, one of the most popular examples of British comfort food, bangers and mash is a dish of bangers (sausages) with mash (mashed potatoes). It is usually served with thick brown onion gravy drizzled over the top.
I like to use plenty of onions in this British bangers and mash recipe or even forgo the sauteed onions and make a delicious onion gravy. You can use any gravy you want, either making it the lazy way with gravy granules or, if you prefer, making your own from scratch.
What Kind of Sausages for a British Bangers and Mash Recipe?
Choose big, fat sausages for making a British bangers and mash recipe. It is not a recipe for chipolatas or dainty little cocktail sausages. Although you can use pork sausages, beef ones are really good here, or you might like to try venison sausages to take this dish a little more upmarket; if so, add some minced garlic to the mashed potato.
Do you want to serve something with this British bangers and mash recipe? Consider broccoli, green beans or another green vegetable to round out the meal. Carrots would also work here.
For the drink, what about a cold apple cider or glass of beer? A light, fruity red wine (very lightly chilled) would also work if you are serving this British bangers and mash recipe and you want some wine. This makes an excellent weekday recipe for the whole family. It serves 8 so you can halve the recipe unless your family is huge or you are having friends over too!
Comfort food tends to be hot, thick and tasty, and it can apply to both sweet and savory dishes. What is your favorite comfort food? Do you love winter comfort food recipes as much as I do?
Are you into burgers and fries, homemade mac and cheese, onion rings with a creamy dip, a bowl of chili, or how about apple cobbler with vanilla ice cream?
Homemade bread is wonderful, as is pizza. Winter comfort food recipes might not be the healthiest of food but balance it out by eating healthy meals at other times, and it can be part of a balanced diet.
Although American food is what many of us think of when considering comfort food recipes, other cuisines are equally good at cheering the body and soul on a chilly day or evening.
Pizza and calzone are Italian favorites, along with mac and cheese, while a hearty crockpot beef stew with European seasonings might also be just what you need, or how does a Swiss cheese fondue recipe sound?
Continue reading →
Some More Hot Content For You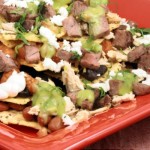 So you want to make the best loaded nachos comfort food? You've come to the right page. Very few dishes offer as much as nachos do, and that includes the wonderful flavors combining spicy with creamy with mild, as well as textures because you have all kinds of those, ranging from soft to crunchy. Nachos can be served as a snack, appetizer or meal, and homemade nachos are, of course, the best!
The following best loaded nachos comfort food recipe combines nachos with beef, homemade pico de gallo, cheese, spices, and more. But this is your recipe so you could take inspiration from the photo and use leftover roast beef instead of the ground beef if you want, or swap the guacamole for chopped avocado, or use queso fresco instead of cheddar.
Just use any toppings you want on this best loaded nachos comfort food and you are sure to end up with a wonderful result. Nachos are typical comfort food and everyone gets excited when you are making them. They are also very cheap to make. Continue reading →
Other Posts You Might Like