corn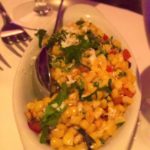 Corn is always good especially when you cook the fresh kind and slice it off the cob in sweet, juicy slices. I love this Monterey style sweet corn recipe as a side dish because it seems to complement just about everything from chicken or seafood to steak or game meats.
Why You Should Make This Monterey Style Sweet Corn Recipe
This dish is easy to prepare, attractively bright colored and is sure to appeal to even the youngest members of the family – those who are normally picky about vegetable-based sides!
I find about a tablespoon of jalapeno enough to give the the Monterey style sweet corn a bit of a bite, but of course some people prefer to add more while others want to omit all traces of spice from their food, so you be the judge here and adapt it to suit your own palate.
If you need to rustle this up in a hurry, you could use well-drained canned corn but honestly that doesn't really do this south of the border inspired dish justice, so get some fresh ears of corn and make it from scratch. That way you will have a real explosion of flavor in your mouth with every mouthful.
Continue reading →
I first tried this amazing corn pie in Chile and immediately fell in love with it. The ingredients might sound a little strange but it's really good, I promise! Some people use beef while others use chicken. The corn topping on this pastel de choclo recipe is crisp, sticky and sweet and the eggs, black olives and other ingredients lend authenticity.
Side Dish Options
What is a good side dish for our pastel de choclo? Well, I like it with a simple tomato, garlic and onions salad on the side, or you might want to steam some broccoli or another favorite vegetable instead. This keeps well in the refrigerator for a few days and is easy to reheat in the microwave.
What Kind of Corn to Use
Although some people prefer to use fresh corn when making a pastel de choclo recipe, I usually just use the canned kind which is fine in this corn pie as long as you drain it properly. Feel free to adjust the amount of sugar. It helps with the caramelization but my husband is diabetic so I usually use half sugar and half sweetener. Continue reading →
Some More Hot Content For You
Other Posts You Might Like