crab recipes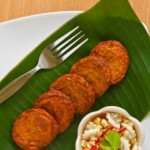 This lovely crab cakes recipe makes a great starter or lunch and you can imagine how beautiful they smell while they are cooking. Everyone wants to know how to make the best crab cakes and this recipe will show you how easy it is to make this popular dish.
Exciting Ingredients
The crab cakes recipe includes potato, flour and eggs, which are basil ingredients and used to give the crab cakes the right consistency, as well as aromatic ingredients such as chilies, lime and fresh coriander.
The flavor is really nice, and you are sure to appreciate they have a wonderful homemade charm. Yes could can buy crab cakes in the supermarket but they will have nowhere near such a fantastic taste! Here is a recipe for Western fish cakes if you want a simpler style. Continue reading →
Other Posts You Might Like