crack slaw recipe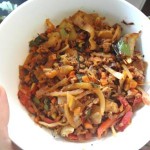 Perhaps you have read about the classic crackslaw recipe on a low carb forum or one of your friends has been raving about it but what is crack slaw and why is it called that?
Well, first things first, crackslaw is supposed to be addictive, which is how the name came about, but don't worry, there is nothing illegal in it! It is addictive in a good way because it is a filling low-carb meal packed with nutritious ingredients.
What's In a Classic Crackslaw Recipe?
This is an oriental inspired recipe featuring ground meat (or poultry or a vegetarian alternative) as well as cabbage or coleslaw mix (cabbage and carrot, usually). The dish is spiced up with ingredients like soy sauce, ginger, hot sauce and more. Continue reading →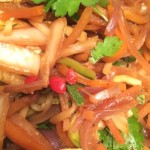 This pork and beef crackslaw recipe is made using a combination of pork and beef. Although you can make crackslaw with any kind of ground meat (including poultry if you wish) I find that combining pork with beef gives a pleasing result. The pork is juicy and the beef has its own distinctive flavor.
They just combine well, especially when making something like pork and beef crackslaw. Here in Holland you can't buy ground pork by itself (at least not in my local store) which is why I use the half and half mixture quite a lot. Yes I could grind my own pork but I haven't yet done that. I do have a meat grinder attachment on my food processor and I guess I will get around to trying it out one day (along with the juicer attachment!)
In this recipe I also used ready-shredded vegetables like these (cabbage on the left, carrot with onion on the right). If you prefer to shred your own then of course that is fine too, and often works out cheaper. I got my shredded veggies on sale.
The bag on the right is labeled "hutspot" which is a Dutch dish made by mashing potatoes with carrot and onion. But it is also very nice in pork and beef crackslaw I have discovered! And you can get it in pretty much any grocery store here because it's very popular.
Some More Hot Content For You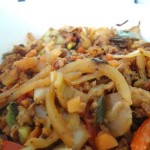 Say you are in a hurry and you want to make some of your favorite recipe but you only have 10 minutes to spare – what can you do? The answer is to make 10 minute crackslaw. Rather than cooking the meat and vegetables separately, you will be saving time by cooking everything together.
I always used to make the dish the regular way, which meant frying the meat, draining it, cooking the vegetables, then adding the meat back in and the seasonings, but since fat is not 'the enemy' when low carb eating you don't even have to drain the meat after browning it, although if you're using high-fat ground meat you might prefer to.
10 Minute Crackslaw Tip: Keep Stirring!
The key to making this Thai vegetarian crackslaw work is to stir, stir and stir! A lot of Chinese recipes are made in the wok and you need to stir constantly, keeping the heat as high as you can without allowing the ingredients to burn. This recipe is similar.
Keep those ingredients moving and they will cook faster. As soon as the beef is browned all over with no pink remaining, serve the crackslaw. Whether the veggies are soft, al dente or a little crunchy it will be good. Continue reading →
Other Posts You Might Like