cream cheese wontons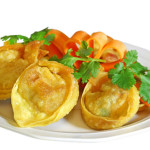 Crab and cream cheese are combined in this easy wonton recipe for a spectacular result. You will need softened cream cheese for these cream cheese wontons with crab so either leave the cream cheese at room temperature for a while or microwave it for 20 seconds.
Feel free to be creative with the wonton wrapper shape when making your cream cheese wontons with crab. You can make scrunched up wontons, triangles or any other shape you fancy. Just make sure they are well sealed so they hold together when they are being fried.
What Kind of Crabmeat to Use
Dungeness crabmeat is the best kind to use, but use whatever type of lump crabmeat you can get. Just make sure you drain it as well as you can, before mixing it with the other ingredients, since it will be packed in water or brine, and that will make your wontons soggy.
The ginger and green onions bring out the flavor of the crab and cream cheese, and plum sauce would be very nice for dipping these wontons into, else you can serve soy sauce, chili sauce or oyster sauce instead for dipping. These cream cheese wontons with crab are very simple to prepare and they only take a few minutes to fry to crispy perfection. Continue reading →
Other Posts You Might Like