cream tea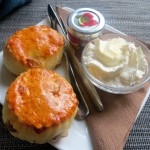 Being from Devon, in southwest England, it goes without saying I am fond of English scones and know a good traditional English scones recipe. Served with clotted cream and then jam on top (or jam and then clotted cream if you are from Cornwall rather than Devon), these wonderfully delicious little treats are best served with a pot of strong tea.
English Scones vs. American Scones
British scones are not the same as American ones which have more butter in the mix compared to flour than the British ones. This is why the traditional English scones recipe differs. Because butter is usually added before the cream and jam, less butter is used in the batter. The same is true about the amount of sugar. A British scone is either plain or made with raisins. I have also made savory cheese and mustard ones (and those are amazing served warm with butter on top).
A typical English cream tea is something you will find all over the country, especially in touristy areas, and you can expect to get a pot of tea with milk and sugar on the side, a freshly baked scone, some butter, clotted cream (certainly not whipped or squirty cream!) and jam. Knowing a traditional English scones recipe means you can host your own tea parties though.
Although one scone might not sound very filling, trust me – this is a calorific treat which is pretty heavy! You might think you can eat two, but not many people can! Continue reading →
Other Posts You Might Like