creamy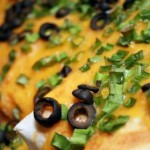 I love Mexican and Tex-Mex food and enchiladas are right up there with my absolute favorites, so when I first made this simple chicken enchilada recipe, I was hoping for a good result, and I got it! The resulting enchiladas were really good, and the flavors were amazing. I hope you like them as much as we all did.
Enchiladas are made by rolling corn tortillas around your chosen filling and then adding a spicy sauce and usually cheese on top. You can fiddle about with this recipe as much as you want because it would be hard to mess it up. Just add your favorite ingredients to the filling and top with your favorite toppings, using as many or as few ingredients as you want, and altering the spice factor depending whether you prefer a mild, medium or hot finish.
Originating in Mexico, this dish dates back to Mayan times when corn tortillas would be rolled around fish but modern ones might feature meat, cheese, beans, vegetables, seafood, potatoes, or a mixture of any of these. This simple chicken enchilada recipe is one of my favorites. Continue reading →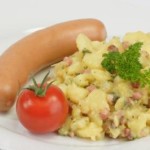 Potato salad is always good but add bacon and you have a really mouthwatering side dish. The following creamy potato salad with bacon is a recipe which is very simple to make; the potato salad will keep for a few days once prepared. Serve it chilled or room temperature. Some people even like it served warm, as soon as it is made.
Use boiling potatoes to make potato salad, not mashing potatoes which tend to disintegrate too easily. The choice of dressing is up to you.
While a lot of people just use their favorite mayonnaise, you might prefer another kind of creamy dressing for this creamy potato salad with bacon, else you can use half mayo half sour cream, half yogurt half ranch dressing, or anything else you fancy. A bit of Dijon mustard in the dressing really brings out the flavor of the potatoes and complements the dish.
Perfect Crunch and Flavor Balance
Finely diced celery or green onion is great for adding crunch to our creamy potato salad with bacon, while you can add flavor with herbs, spices or other ingredients. The bacon adds plenty of flavor. Remember it also adds saltiness so limit the amount of salad used in the recipe, and then you can always add it later if necessary. Continue reading →
Some More Hot Content For You
Pork loin steaks or chops are ideal for this recipe, and these tend to be very affordable when compared to some other types of meat. This pork steaks in mustard sauce recipe is perfect for a weeknight dinner and you'll find them to be popular with the whole family.
Pork is juicy and tasty, and it is also quite versatile, making an appearance in everything from spicy recipes to mild ones or even fruity ones. Pork goes nicely with apple. The following pork steaks in mustard sauce recipe features a mustard sauce though, proving that pork also works with piquant flavors.
Choose Your Cream and Mustard Types
Choose from regular sour cream or crème fraîche or the reduced fat type to make this, depending on what you have and what you prefer. Dijon mustard is the best type but again you can use another kind of mustard if that is what you have. Continue reading →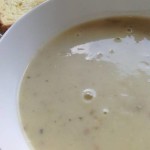 This delicious cream of cauliflower soup recipe is thick and creamy. If you want to make the best cream of cauliflower soup recipe, this is a very nice recipe to choose. Each serving offers 150 calories, 12g carbs, 4g protein and 10g fat. This makes a very nice lunch or appetizer.
I often make curried soups but occasionally I like to make something creamy, and cauliflower is really good. Mashed cauliflower (like mashed potatoes but with cauliflower) is also very good, and I like to add cauliflower to curries.
Cream of Cauliflower Soup Recipe: So Simple and Good
What makes this cream of cauliflower soup recipe special is the simplicity of it. The focus is all on the cauliflower and the other ingredients are used to complement it. So if you are wondering what kind of soup to make, you might like to try this one. It really is yummy. Continue reading →
Other Posts You Might Like