crispy baked camembert recipe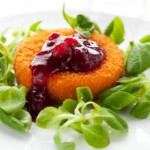 Camembert cheese is often featured as one of the cheeses on a cheeseboard, but there is more you can do with it. Similar to brie, this French cheese offers a ripe, creamy flavor, and it is also delicious served hot. Some people choose to fry the breaded Camembert in oil but you can also oven bake it if you want to cut the calories and fat content. Try this baked Camembert recipe for yourself to experience an amazing taste and texture.
How Many Will This Crispy Baked Camembert Recipe Serve?
This baked Camembert recipe will serve 2 if you want a filling starter or light main dish, or you can cut each cheese in half before you dip in the egg and breadcrumbs and serve each of 4 people a half-moon shaped cheese. Another idea is to cut the cheese into 4 or 6 smaller wedges and serve it that way. In the recipe we are keeping the cheeses whole though, just for visual appeal. Continue reading →
Other Posts You Might Like