custard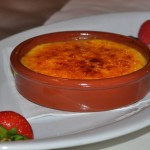 Learning to how many crème brûlée is easy, and this creamy, sweet dessert is very tasty after any kind of main dish. Crème brûlée, sometimes mis-spelt as crème brule, is also known as crema catalana, Trinity cream and burnt cream. But what is creme brulee exactly?
The rich custard base is topped with a hard caramel layer, and it is usually served at room temperature although it can also be served chilled if you want to make it ahead.
More about Crème Brûlée
Vanilla is the typical flavor for crème brûlée but there are other possibilities, including coconut, chocolate or coffee. This dessert dates back to at least the late 1600s. This dessert is similar to 'flan' which is a Spanish dessert served without the caramelized top.
This dessert is often served in individual ramekins and the top can be made separately and added, or else you can sprinkle sugar on the finished desserts, then use a cooking torch or broiler to caramelize it.
Our recipe only needs 5 ingredients. You will need egg, cream, white and brown sugar, and vanilla to make it, and this recipe is pretty easy to follow. Serve the dessert as it is or pair it with some fresh berries for a colorful contrast. We like it with fresh strawberries and even a sprig of fresh mint. When learning what is creme brulee and how to make it, you will also want to consider garnishes.
Continue reading →
Other Posts You Might Like