dizzy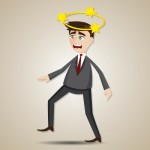 First things first, what is vertigo? To sum up, it is a dizzy feeling. If you have it, the room will seem to be spinning or moving. It can be linked to inner ear or eyesight disorders and the only way to get rid of it is to find the best vertigo treatment.
Dizziness is something most of us experience now and then but vertigo is a feeling of spinning or tilting, a persistent sense of motion which you feel when there is nothing moving.
How Does It Feel?
Nausea, vomiting and/or sweating can accompany it, and in severe cases you can't even walk down the street in a straight line because it feels like everything is moving or tilting.
It really is a horrible sensation and I know personally. I'm suffered from it on and off for years until I found the best vertigo treatment anyway.
Whenever I woke up in the morning the room seemed to rotate (and it was worse if I looked to the right instead of the left. Continue reading →
Other Posts You Might Like