duck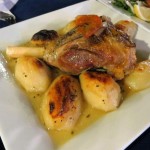 This easy roast duck leg with potatoes recipe makes a wonderful dinner. The duck combines perfectly with the roasted potatoes and you should also add your favorite green vegetable, or even some kind of salad on the side. A Greek salad would go well with this or consider some stewed red cabbage or similar.
You will need a couple of duck legs for this easy roast duck leg with potatoes recipe, along with potatoes and thyme. The duck is fried skin side down in a roasting pan, then you can flip it over and add the potatoes.
Add thyme, salt and black pepper, and then you can roast the duck and potatoes for about an hour and a half or up to two hours. As soon as the potatoes are crispy and the duck meat is tender, you can serve this easy roast duck leg with potatoes.
This easy roast duck leg with potatoes recipe makes enough for 2 people but it is very easy to double if you want to make more. The great thing about this dish is its simplicity.
What You Need to Make Easy Roast Duck Leg with Potatoes
All you need for this easy roast duck leg with potatoes are a few ingredients but you can tweak it any way you want, perhaps adding lemon juice or orange juice and dried herbs to the duck for a Mediterranean or Greek touch, sprinkle 5-spice over it for an Asian twist, or you can use some potato and some carrot, or some potato and some celery, or any other dense vegetables you want. If you want to use soft vegetables, like mushrooms or bell pepper, add them 30 minutes before the end of the cooking time.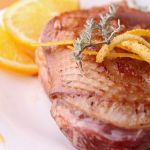 Easy to make yet sure to deliver a flavor that wows, duck breast a l'orange makes a fantastic dinner, whether you are serving it up to the family or considering what to make for a dinner party or special occasion.
Our duck breast a l'orange recipe combines duck breast with orange, Grand Marnier for a special touch, cream, and bouillon, and the result is a perfectly balanced dish. If  you do not want to buy a whole bottle of Grand Marnier (or similar orange liqueur) just get a miniature, or even omit it if you prefer. This duck breast recipe is easy enough for any home cook to manage with ease, even if it is your first time cooking duck.
What to Serve with Duck Breast a l'Orange
Serve your duck breast a l'orange with potatoes and your favorite vegetables. I like mashed potatoes with this, and perhaps some asparagus or green beans. Save the duck fat after rendering it out because it is amazing to use for roasting potatoes or even cooking your green beans in.
Continue reading →
Some More Hot Content For You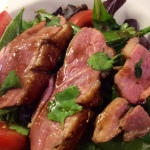 This warm duck breast salad is one of my favorite recipes, and my husband especially loves this dish! It is really easy to make too, and a good introduction to the joys of working with duck breast. It does not take long to make. In fact you can have it ready in under half an hour, including both cooking and prep time.
This warm duck breast salad is filling enough to be the main dish, but if you were looking for an appetizer duck salad then simply use this recipe to serve 4 and it will make a tasty, filling appetizer dish, or even 6 if you don't want such large appetizer servings.
Any leftover duck can always be refrigerated then used the following day to make tasty sandwiches. It will keep for a few days in the refrigerator actually, in a covered container. Chop it and add it to a risotto, pasta dish, pilaf, or something else.
The dressing is a simple 4-ingredient mixture which brings out the beauty of the duck flavor, while the salad can be anything you like, although keeping it simple with salad leaves, tomatoes and green onions is a good idea.
Continue reading →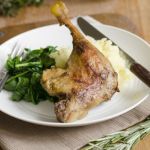 Duck legs are much simpler to cook than duck breast, although that is not difficult either. Moreover they are nearly impossible to overcook because of the fat content keeping them succulent. All you need for the following easy roasted duck legs recipe are duck legs, thyme, salt and pepper, although you can also cook potatoes in the oven with the duck if you wish.
Adding Potatoes to Your Easy Roasted Duck Legs
If you do want to cook potatoes with the duck, simply peel and chop or slice potatoes and arrange them around the duck in the oven, then they can cook together. The reason I usually roast the potatoes is because the fat coming out of the duck cooks them and crisps them up fantastically.
What to Serve with Easy Roasted Duck Legs
Alternatively this duck is fantastic with mashed potatoes and a green vegetable, such as broccoli, green beans, spinach, snow peas, or even mixed veggies. Leftover meat can be frozen for up to 3 months and thawed overnight in the refrigerator, then used cold or gently reheated.
Continue reading →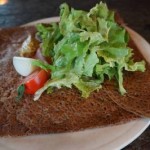 These delicious galettes are easy and fast to make. You need to chill them partway through the recipe so you could make them in advance up until then if you are in a hurry. This duck galettes recipe is a highly unusual appetizer recipe which you might want to consider.
Duck Galettes Recipe: French in Origin
The correct term for one of these galettes is a 'Breton galette' since a galette is any kind of flat French savory cake, while a Breton galette means a flat, buckwheat pancake, so there is a difference.
Including duck and potatoes, this recipe is not your average starter recipe so if you are looking for something extra special perhaps this will fit the bill (no pun intended). The flavor is excellent and this dish is suitable for novices in the kitchen. Continue reading →
Other Posts You Might Like