dutch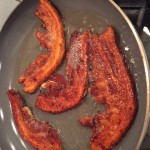 I've been living in Holland for several years and cooked speklappen, also known as speklapjes, for my husband a number of times. Speklappen or speklapjes (the same thing) means pork belly slices. You can get these quite cheap and they are easy to cook. Also, you can use them in a number of different recipes including the following Dutch speklappen or speklapjes recipe.
The best way to cook these is in a little oil. Get the oil hot in a skillet or frying pan, then add the speklapjes in one layer and fry them. You will see them turn golden brown and crispy. Flip them halfway through  cooking so they cook evenly on both sides.
You can then toss them in your favorite Asian sauce and serve them over egg noodles or egg fried rice, or else have them over mashed potatoes with gravy, or just serve them as they are with your chosen side dishes. That's how simple it is to prepare a Dutch speklappen or speklapjes recipe which the whole family will enjoy.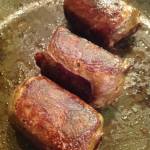 Slavink is a Dutch meat recipe you will spot in grocery stores in the Netherlands, nestled in the pork area. These can best be described as a rectangular meatball wrapped in bacon. Go back in history and you will find a Dutch slavink recipe was originally a small songbird wrapped in bacon.
In the south of Europe you can still find such a dish despite many people trying to outlaw the dish, but the modern Dutch version used ground beef and/or pork instead. In fact many of them use a half beef/half pork mixture to create a Dutch slavink recipe which is popular locally.
Butchers in the Netherlands make their own slavinken, which is the Dutch plural of slavink. We suggest you make a batch of them too because they freeze well. If you want to do this with your Dutch slavink recipe , wrap them individually in plastic wrap and then put them all in one large Ziploc bag. Let them thaw overnight or for at least 12 hours before using.
The size you make the slavinken is up to you. Some people make them big, like one per serving, while others prefer smaller ones – several per serving. Because these Dutch meatballs are wrapped in bacon which releases fat in the pan, you will not need to add much, if any fat to the pan. Serve them with mashed potatoes, mushrooms and onion, for a traditional Dutch recipe.
Continue reading →
Some More Hot Content For You
Other Posts You Might Like