foods to eat after teeth whitening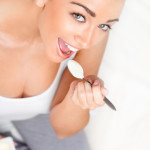 Having your teeth professionally whitened is the best way to get that gorgeous pearly shade without breaking the bank on veneers or another expensive treatment. The process itself is usually painless although your teeth might be a little sensitive afterwards. You will need white food recipes for after teeth whitening for a couple of days. Even though it's possible to fashion a menu from the list of 'allowed' white foods it's helpful to have some fresh ideas to keep things interesting!
Read on to learn what you can eat after teeth whitening, what you must avoid after teeth whitening, and some more teeth whitening aftercare advice. I have had mine whitened twice now and I have done the white food diet twice. It's not the most exciting diet in the world (far from it!) but it is doable.
What Can You Have Immediately After?
So before we look at the white food recipes for after teeth whitening, let's figure out what you can't do or have right after the treatment. Don't drink anything except water for the first hour or 2 after having your teeth whitened and try to avoid smoking and staining foods for 48 hours afterwards. In fact the longer you wait, the better for your teeth. Rinse your mouth after each meal to avoid food particles between your teeth and if you do accidentally eat staining food brush your teeth immediately to minimize the damage.
Continue reading →
Other Posts You Might Like