fruit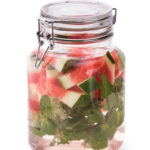 Detox water recipes are all the rage these days, and little wonder when the concept is basically about making plain water delicious so you want to drink plenty of it. Water is absolutely essential but a lot of people struggle to drink enough of it. Once you feel thirsty you are already dehydrated and in need of this watermelon mint detox water or something similar.
The obvious answer to this problem is flavoring regular water (tap water, bottled water, filtered water, whatever you like) with fruit, perhaps adding some kind of fresh herbs or spice to boost the flavor further. This recipe is one of my favorites. We are incorporating watermelon and fresh mint with chilled water to make a gorgeous drink.
What Nutrients Does It Offer?
Watermelon is rich in potassium and vitamin C, while lemon is full of vitamin C and can help cleanse the liver and aid with digestion. Mint stimulates fat digestion and is helpful in eliminating toxins. And as for water, well that's essential to life itself.
You can either make a glass of this watermelon mint detox water or a whole pitcher. You can also tweak the recipe, swapping the lemon for lime, the watermelon for canteloupe or even the mint for half a cinnamon stick. Get creative with your detox water recipes and you are sure to find your perfect blend! Continue reading →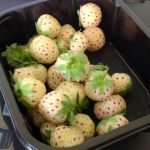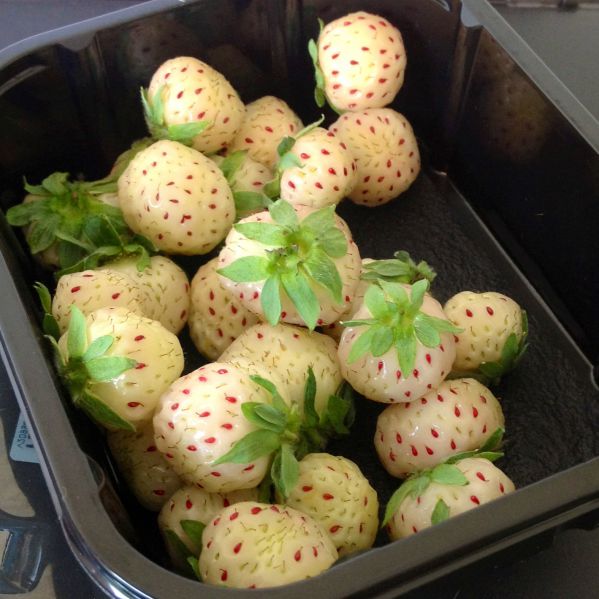 Although pineberries might resemble albino white strawberries they are in fact a different berry altogether. This petite, rounded fruit has white flesh and red seeds and there are some pineberry recipes you really must try. They are not as hardy as red strawberries although they do share a genetic makeup. Perhaps you have spotted some in the supermarket or market and been curious about what they are and how they might taste.
What are Pineberries Exactly?
This fruit, also known as chiloensis, or Puren White strawberries, is a cross between North American red strawberries and South American white strawberries. They are grown in plant form, since a second generation just produces red strawberries. You can't grow them in your garden like regular strawberries but you can buy pineberries in your local grocery store…maybe!
What do pineberries taste like then? Well I would say they are strawberry-textured but pineapple-flavored, or at least mainly. These berries begin green but then get paler as they get more ripe. Slightly less than an inch across in size, pineberries offer a juicy flavor which is not too sweet nor too acidic, and they are really aromatic. This makes pineberry recipes an attractive idea if you want to make something new.
Continue reading →
Some More Hot Content For You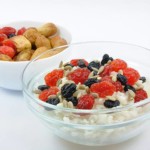 Although fried banana wontons are not the most diet-friendly dessert, they are great for an occasional treat. If you want something a bit healthier, then you could adapt this recipe or make another one. Healthy desserts with banana as one of the ingredients are sure to satisfy your sweet tooth and they're healthier than a simple carb and sugar confection. Try baking the banana wontons instead of deep-frying them. You will need to spritz a little spray oil on them to get them crispy but baked wontons are also very good. You can serve a sugar-free chocolate sauce or fruit sauce with them.
Grilled Banana Recipe
Let's think of some more healthy desserts with banana ideas. Something else you can make is grilled bananas. Simply peel a banana and wrap it in foil after adding some cinnamon, sugar or sweetener, and perhaps a tot of brandy or sherry too. Tightly seal the foil and pop the banana on the grill for ten minutes. Serve it as it is or with some cream or ice cream. Grilled bananas are lovely. Continue reading →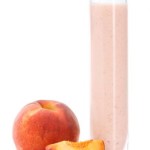 Peach smoothie is perfect for any age or occasion, and you can adapt the following recipe as much as you want. Serve it in martini glasses, tall glasses or another kind, and garnish each one with a peach slice if you want, or a strawberry perhaps. This lovely recipe is quick and easy to make. Simply throw everything into a blender and press the button.
If you find yourself with a batch of fresh peaches to use up, consider making this recipe. You don't have to use fresh peaches. Frozen ones will work too, either thawed or still frozen, and if you're using still-frozen ones you can leave out the ice cubes.
Fruity and Fantastic
Peaches are wonderful in fruit smoothies, and you can also add other fruit, such as strawberries to make a strawberry peach smoothie or consider pineapple, pear, mango, melon or other fruits. Canned fruit is yet another option but drain off the liquid if they are in 'syrup' (which is only sugary water). Continue reading →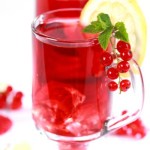 This lovely summer fruits ice tea combines tea, honey and fruit with mint leaves. The result is refreshing and delicious. If you wish to make an alcoholic version, add a splash of Cointreau, Limoncello, Chambord or fruit brandy to the drink. If you are doing this and there are kids around, don't forget to mark the pitcher so you know it's for the grownup only.
This tasty drink is tasty, refreshing and free from additives. A lot of commercial teas contain lots of added sugar, as well as artificial colors and flavorings, and those are all things we could happily do without.
Feel free to tinker with the following recipe. Try adding lychee tea and lychees instead of the hibiscus and rosehip teas. If you want to make it fizzy, add some lemonade or sparkling water to the mix. Pineapple, passion fruit or berries can also go into this tea. Continue reading →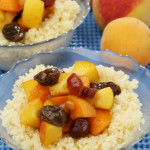 This steamed couscous with fruit recipe is light, aromatic and really delicious. Combining the taste of couscous with sweet juicy fruit, this makes a great side dish or you can have it alone for lunch or a light supper.
You could also consider doubling or tripling the steamed couscous with fruit recipe to make a nice buffet or potluck dish. It is fine to stand at room temperature for a while since there is no meat or eggs in there.
Couscous is a lovely grain to cook with and you can use plain couscous or Israeli couscous (otherwise known as pearl couscous). It makes a nice change from rice or potatoes, and you can make salads, side dishes and main dishes using this grain. It is very easy to cook.
In this steamed couscous with fruit recipe, just cook it how it tells you on the package, adding some raisins to the cooking water. Soaking raisins in liquid, especially hot liquid, swells them up and makes them juicy. For special dishes and desserts they are nice soaked in brandy or rum. Continue reading →
Other Posts You Might Like