fusion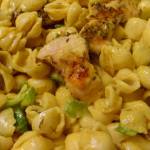 Pasta is not the first ingredient that should come to mind when you think about Indian cuisine because of course it is an Italian ingredient. However that is the beauty of fusion cooking. This Indian pasta salad offers some exciting flavors, all of which go together nicely. When combined they offer an exotic flair in what would otherwise just be a basic pasta salad.
You can find all kinds of ingredients in this Indian pasta salad which come together wonderfully. The neutral flavor of pasta along with its firm al dente texture means a spicy, aromatic dressing is sure to suit it instead of clashing. In the following recipe we are teaming our pasta and chicken breast with a fragrant Indian inspired dressing.
Taking inspiration from the classic English Coronation chicken recipe, this salad boasts plenty of exotic flair. Learn more about how British Indian cuisine began and grew and you will soon see how such dishes gained such popularity in the UK.
Serving Tips and Tweak Ideas for Indian Pasta Salad
This Indian pasta salad pairs well with a bunch or red grapes. Alternatively you could serve it over a bed of lettuce, or even just as it is for a 'lunch in a rush' at your desk. Feel free to tweak the ingredients. Perhaps you prefer to use turkey (or have some left over) instead of chicken. Maybe you'd like to swap the celery for green bell pepper or the slivered almonds for cashews.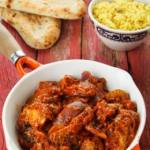 Indian cuisine is really popular in the UK, but British Indian food differs from authentic Indian cuisine. While some dishes are Anglicized versions of typical Indian dishes, others are Indian takes on typical British dishes, so there is plenty of fusion.
Fish and meat are cooked as curries with Indian vegetables, and yogurt, almonds and coconut are typical ingredients in this cuisine. British roast beef for example can be modified with chilies and cumin to make a curried beef dish.
Indian roast type dishes, rices, breads and curries all offer a distinctive Indian taste. Some examples of British Indian food include mulligatawny, fish rissoles, coronation chicken, kedgeree, rose cookies, and salted beef tongue. The term 'British Indian food' can also apply to recipes adapted during the British Raj in India which achieved popularity in the UK afterwards.
Indian chutney is usually sweetened or cooked in British Indian recipes but not highly spiced. Major Grey's Chutney is a good example, although spicy or sour fresh chutneys are not often seen. Piccalilli was an early attempt at an Indian condiment.
Continue reading →
Some More Hot Content For You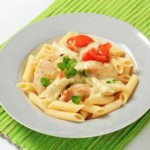 Are you in the mood for Cajun cuisine or something Italian? This Cajun chicken pasta recipe offers the best of both worlds. Pasta is an Italian favorite of course, and Cajun seasoning just brings out the beauty of the chicken and the pasta, resulting in a dish you will adore. You might have enjoyed something similar before or perhaps the combination of Italian and Cajun is a brand new treat for your palate. Either way you will certainly enjoy this tasty dish.
This is simple enough for beginner cooks to master and once you have made it you will be sure to want to make it again. The following recipe makes enough for 2 people so you can easily double it to serve 4 or triple it for 6 (or 4 hungry people!) Serve some salad leaves on the side if you want.
A lot of home cooks rely on creamy pasta with chicken, shrimp or similar as one of their regular weeknight menus, but try a pinch of Cajun spice in the mix and you will be really impressed with the results. There are a few Cajun chicken pasta recipes free online and so many chicken pasta dishes to choose from, but this is one of the best, and the following recipe is how I personally like to make it. Continue reading →
Other Posts You Might Like