gifts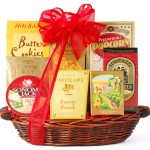 If you aren't sure what to give as a gift, then a gourmet food gift basket is a wonderful idea. Giving the gift of food never gets old. Everyone loves to eat and there are gift baskets for every budget and taste. Choose from the best gourmet food gift baskets to find the perfect one for the occasion.
You can get themed gift baskets, perhaps with a range of delicious cheeses and some crackers, or you might prefer something offering nuts, cookies, preserves, wine and more, so there is definitely something for everyone in there.
Best Gourmet Food Gift Baskets: Some Ideas
Give a gift hamper to a family, couple or individual and personalize it by adding a special message. You could make your own food gift hamper but then you would need to purchase the hamper, all the items to go inside plus some straw, shredded paper or other stuffing, and then shrink wrap plastic around it and attach bows or ribbons.
It is far easier and quicker to simply order one online, and you can check other people's gift basket reviews before you buy, to help you make a good choice about the best gourmet food gift baskets. Continue reading →
Other Posts You Might Like