gnocchi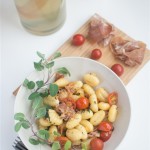 Gnocchi makes a change from pasta or pizza but is just as Italian. So if you are in the mood for Italian food but not something too, well, obvious, consider gnocchi! This dish, which comprises potato gnocchi, cherry tomatoes and mozzarella, is also known as gnocchi alla sorrentina. Gourmet gnocchi makes such a nice dinner. It's the perfect balance between satisfying and delicate.
I like to add prosciutto to the dish but you could add serrano ham or regular ham instead (the thinly shaved kind) or else just leave it out, for a vegetarian result. You could even get creative here, adding shredded cooked chicken or similar, as a way of using up leftovers from last night's meal.
What is Gnocchi Exactly?
Gnocchi is like a little dumpling made of potato and flour. You can make your own or grab a package from the pasta and rice aisle in the grocery store. Obviously it's far easier just to grab some ready-made. If you add plenty of fresh ingredients you can restore a homemade flavor to the dish. We are adding cheese, tomatoes and ham, and this adds plenty of flavor and color, and it's also really easy to make this simple Italian staple into a gourmet gnocchi meal ready to knock your partner's socks off with big, bold flavors!
Serve this with some crusty bread, preferably ciabatta or another kind of Italian bread if you can get it, along with butter. Add a baby leaf salad and some kind of basic dressing like extra-virgin olive oil and red wine vinegar or balsamic vinegar, and you have a delicious entree which everyone will love. This certainly makes an exciting change from the usual pasta recipes. Continue reading →
Other Posts You Might Like