healthy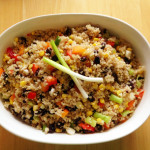 Quinoa is quickly becoming a popular food in America and throughout the world. The fast spread of this low-fat superfood grain has led to people wondering how to cook it at home. Chances are you've probably eaten it at a restaurant or at a friend's house. Now you're wanting to know how to cook this amazingly tasty food for you and your family and you want to know how to cook quinoa on the stove.
The good news is that quinoa (pronounced keen-wah) is really easy to cook at home. It's certainly no more difficult to cook than rice or buckwheat, which is good news for all of you that want a taste of this superfood without having to pay the high prices restaurants usually charge for it.
Prepare the Quinoa First
The first thing that you need to do is soak your quinoa in a large bowl of water for 15 minutes. The outside coating of quinoa has a bitter substance called saponin. This is the plant's way of ensuring that birds don't steal its precious nutrients. The bitter taste makes birds think twice about chowing down on it. Drain and rinse the quinoa using a fine mesh strainer after it has been soaked. You'll want to do this once or twice for a minute or two. This is the final process of getting rid of the saponins.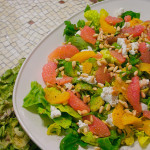 This Mexican Christmas salad recipe is traditional in both Old and New Mexico, although we are adding a twist with the charred lettuce wedge. Although romaine (known as cos lettuce in some places) really comes to life on a grill, the delicate leaves do not always stand up to the temperature needed by the rest of the food on the grill, and nobody wants a wilted mess on their plate.
Thanks to the blowtorch you can control how much heat you use and where it is directed. Besides, who wants to stand outside shivering over the grill on Christmas day, knee-deep in snow? Er, no thanks!
How Mexican Christmas Salad is Prepared
In this Mexican Christmas salad recipe, romaine hearts are coated in extra-virgin olive oil and parmesan and then scorched until the cheese browns. You can scorch the lettuce as little or as much as you wish, although we suggest using a blowtorch until the parmesan flakes have melted and you can see golden brown patches on the romaine.
So when is this Mexican Christmas salad good for? Well you could serve this as an appetizer on Christmas Day or save it until Boxing Day when your belly is begging you for a lighter lunch after all those heavy holiday dinners. I know that feeling! Basically, this Mexican Christmas salad is tasty, nutritious, well balanced and really worth making, so give it a go!
Continue reading →
Some More Hot Content For You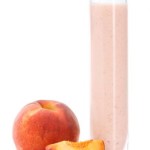 Peach smoothie is perfect for any age or occasion, and you can adapt the following recipe as much as you want. Serve it in martini glasses, tall glasses or another kind, and garnish each one with a peach slice if you want, or a strawberry perhaps. This lovely recipe is quick and easy to make. Simply throw everything into a blender and press the button.
If you find yourself with a batch of fresh peaches to use up, consider making this recipe. You don't have to use fresh peaches. Frozen ones will work too, either thawed or still frozen, and if you're using still-frozen ones you can leave out the ice cubes.
Fruity and Fantastic
Peaches are wonderful in fruit smoothies, and you can also add other fruit, such as strawberries to make a strawberry peach smoothie or consider pineapple, pear, mango, melon or other fruits. Canned fruit is yet another option but drain off the liquid if they are in 'syrup' (which is only sugary water). Continue reading →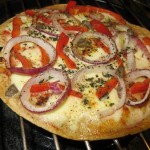 This low carb tortilla pizza is incredibly good and it takes about 10 minutes to make and the same again to cook. Whether or not you have made pizza before, you will find this low carb tortilla pizza incredibly simple, and the sky is the limit as far as toppings are concerned.
Use a low-carb tortilla to make your pizza. I recommend the Mama Lupe ones because they're so good and only 3 carbs (and 60 calories) each. And they are the closest in flavor to regular tortillas. I also tried the La Tortilla brand for my low carb tortilla pizza because those are only 50 calories each but… nope not as good as the Mama Lupe ones.
This low carb tortilla pizza recipe makes a fabulous dinner, and it is also quick enough to make for lunch. Whatever meal you are making this pizza for, you are sure to find it filling and delicious.
Keep some low-carb tortillas in the refrigerator (they keep for weeks in there) and rustle one of these up whenever you're in the mood for some comfort food! Continue reading →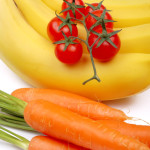 Sometimes the best recipes are the simplest, and it is a myth you have to use lots of different ingredients to make a nice curry recipe. Take the following healthy banana and carrot curry recipe for example.
The main ingredients are carrots, banana and onion, and the sauce is made with curry powder, orange juice and a splash of yogurt. Use fat-free yogurt and you can see how healthy and low in both fat and calories this banana and carrot curry recipe is.
Serve this banana and carrot curry with rice or naan bread or keep things healthy and have a chapatti bread with some raita (cucumber, yogurt and mint dressing) on the side. Perhaps you have a meat or fish curry on the stove and you want to make a side dish to go with it, something with veggies, in which case this would go very nicely with it. Continue reading →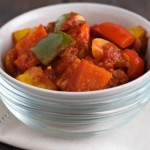 Nothing beats a stew on a chilly day, and even if you do not eat meat or chicken, you can still make the most wonderful flavored chunky vegetable stew with potato rosti. This dish is made with vegetables instead of meat so it is also nutritious.
The onion and garlic are fried first, just to turn them golden brown and bring out their wonderful aromas, then all the other ingredients go into the pot and the stew really starts to take shape.
The seasonings for the chunky vegetable stew with potato rosti are cumin and orange juice, and then of course you have the garlic taste. This might not sound like much but don't forget how great the veggies taste just by themselves and you will see the seasonings are to bring out the veggie flavors not replace them. Continue reading →
Other Posts You Might Like