hoisin
This particular Hoisin duck brioche dish was inspired by a recent visit to Ruby, Exeter, where I enjoyed something very similar. Yep here I am dreaming of Ruby again!
Well anyway the duck and hoisin are beautiful together, along with the cucumber, and although I am more used to enjoying this mixture in pancake wraps, I found the brioche really good with them, since brioche is naturally sweet and chewy, and just seemed to complement the hoisin duck flavors.
What Goes with Hoisin Duck Brioche?
I enjoyed this Hoisin duck brioche with a peanut butter wolf cocktail when I was at Ruby's but you might prefer something else depending on what time of day you're having it.
I enjoyed my Hoisin duck brioche in between having the back window of our car smashed in and going to my father's wake, so I felt the cocktail was justified at the time. Sometimes you just need some great food and a nice drink to take your mind off things.
Feel free to add other stuff to the Hoisin duck brioche buns if you wish, although I find the lettuce, green onions and cucumber to be enough contrast against the duck mixture. I ordered mac 'n cheese on the side with this, which went very well in a 'fusion' kind of way! Ruby tell me they use a commercial smoker and duck legs, so my Hoisin duck brioche recipe is similar but not the same. Continue reading →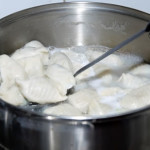 This exciting Hoisin celery wontons recipe features a flavorful broth containing homemade pork, hoisin and Chinese celery wontons. It couldn't be simpler to make and this makes a warming meal for the whole family. You can even make extra wontons and freeze them for next time.
This Hoisin celery wontons soup recipe calls for soy sauce paste. Soy sauce paste is similar to soy sauce but thicker. If you can't get it, just use the regular kind. Be careful not to add too much sesame oil; a little really does go a long way.
You can find Chinese celery in any Asian grocery store and it is sweeter than regular celery. If you can't get it then try adding chopped Napa cabbage or black mushrooms instead. This Hoisin celery wontons soup is going to be so good!
Use a food processor to combine the filling ingredients if you want but use the "pulse" setting because it's best to leave some texture in the shrimp and meat. You don't want them to vanish into a puree. You should be able to see the different ingredients when you bite into the wonton. Use egg wonton wrappers or the ones without egg; either works fine here. Continue reading →
Some More Hot Content For You
Other Posts You Might Like