how do you make satay sauce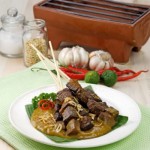 You only need 3 ingredients to make the best satay sauce recipe. It is so easy! Learn how to make satay sauce and you will want to make this often. Satay sauce can be served with chicken or beef kabobs or fries, or you can serve this easy peanut sauce recipe as a dip for pretty much anything. If you're making some kind of fried rice dish like egg fried rice or nasi goreng, microwave this for 45 seconds or until hot then let it cool for a minute (so it thickens back up) and it will be an amazing accompaniment.
How to Make It Like a Pro
When you know how to make satay sauce, you will want to perfect this skill. The key to making it is to combine the 3 ingredients, using equal measures of each one, then taste it and add a bit more of 1 or 2 of them.
You just need to get a nice balance of flavors. This satay sauce is mild but if you wish to make a spicy one just add a few drops of hot sauce or some minced chilies. That would make it a 4 ingredient satay sauce instead of a 3 ingredient one but that really doesn't matter. Continue reading →
Other Posts You Might Like