how to smoke chicken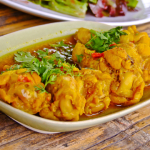 Elegant appetizer recipe ideas are becoming more popular than ever before, as people begin to experiment more in the kitchen. You need to choose an appetizer that will impress your guests with your knowledge of food, and the distinct choice of flavors used to make the dishes. There are many different recipes to choose from, regardless of the occasion, and your budget. Take Chinese tea smoked chicken for example – this is certainly elegant as well as unusual.
Presentation and Good Ingredients are Vital
If you use a good recipe for your appetizer, you can achieve an exciting, elegant appearance with very basic ingredients. Expensive ingredients can be used but you will be surprised what you can achieve with more affordable options. Miniature appetizers always appear to be elegant, and can ensure that your guests want more of the delicate flavors.
These Chinese lettuce cups with their heavenly chicken mixture on top offer the perfect appetizer before a main dish. Served warm they are simply fantastic and you're sure to enjoy the aromatic flavor of this Chinese tea smoked chicken recipe. Feel free to leave out any of the ingredients you do not like or consider swapping the chicken thighs for breasts if you want, or even duck breast if you prefer that.
Other Posts You Might Like