hummus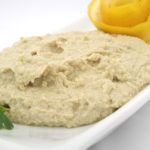 Using peanut butter instead of tahini is a great idea if you want a great-tasting and easy hummus recipe which boasts plenty of nutrition from the peanut butter. Our easy hummus recipe with peanut butter will appeal to everyone, old or young, because it is creamy and flavorful.
This hummus recipe without tahini is very simple to make and you can serve it as a dip, perhaps with celery or pita bread, or use it as a spread in sandwiches, pairing it with chicken and cucumber or salad leaves and sliced boiled egg.
How to Make Hummus Without Tahini
You will need a food processor or blender to combine the ingredients for this hummus, then you can simply transfer it into a serving dish.
The garbanzo beans, which are also known as chickpeas, can be cooked fresh ones or well-drained canned ones. Use fresh lemon juice if you have it, and you will also need salt, natural creamy peanut butter and fresh garlic.
We like to drizzle olive oil on top and sprinkle on some parsley and paprika, since they add to the flavor and also look great but you can omit those if you prefer.
Continue reading →
Other Posts You Might Like